Erica Wise & Octavi Rumbau: Five movements on pendulum motion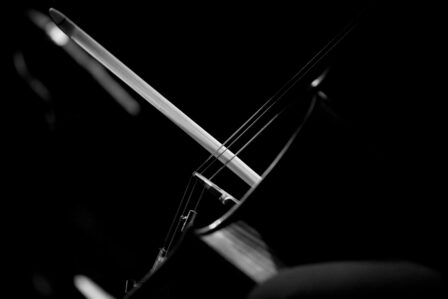 On November 23 at 8 p.m. Five movements on pendulum motion will be presented in Hangar as part of the Audio Formal program.
"Fifteen uncoupled simple pendulums of monotonically increasing lengths dance together to produce visual traveling waves, standing waves, beating, and random motion. One might call this kinetic art and the choreography of the dance of the pendulums is stunning!" Harvard Natural Sciences Lecture Demonstrations
This reflection that relates a pendulum's movement with choreography as if it were a dance is the starting point of the project Five movements on pendulum motion by the composer Octavi Rumbau with the collaboration of the North American cellist Erica Wise. This project proposes a concert in duo, cello + laptop format, along with a multi-channel electronic device.
Since 2017, Rumbau has been working with the idea of pendulum movement as an algorithmic principle to generate complex textures which can lead us to unimaginable terrain. Specifically in this work, the idea is to create five new listening spaces based on different pendulum models that generate complex rhythmic figures, passing through static textures where time is diluted. In this way, the creation of spaces where the sonorous stimuli turn almost tactile, invite one to make a sensorial trip through a (perhaps better) continuously organic sonorous territory .
Octavi Rumbau is a composer and sound artist from Barcelona. His recent work concentrates on the search for new sound spaces of the interaction between instrument and electronics, as well as deepening the malleability of musical time and its paradoxes. His works are performed in numerous concerts, meetings and festivals throughout Europe and North America. He has received commissions from the Auditorio de Barcelona, Sampler series, Fundación Tàpies, ME_MMIX, Bcn216, Crossing Lines, Festival de Ópera de Bolsillo, Orquesta de Barcelona, UMS'n JIP / Festival Mixtur, Duo Links, Laps ensemble, Rémi Durupt, Miguel-Ángel Lorente, Víctor de la Rosa, etc. He has also collaborated, among others, with the Ensemble Multilatérale, Taller Sonoro, Ensemble Links, Spanish Brass Luur Metalls, Funktion, Orchestre de Lorena, Orquesta de las Islas Baleares, Alberto Menchén, Laurent Durupt, Jan Gerdes and Philippe Spiesser. He was the guest composer at the Barcelona Auditorium during the 2017/2018 season with the project It 's time together with the dancers Albert Quesada, Federica Porello and Zoltan Vakulya.
Cellist Erica Wise enjoys a varied career as a chamber musician, soloist and teacher. She is one of the founding members of the Dalia Quartet and Funktion, a group dedicated to the study of contemporary music. As a strong defender of living composers, she has given the Spanish premieres of works by Tristan Perich, Hanne Darboven and Joan Magrané, as well as the international premieres of works by Octavi Rumbau, Roger Goula, Yuval Gotlibovich and Lior Navok, to name but a few. Among others, she has given a solo recital for the series of continuum concerts at the Macba in Barcelona and the performances of Darboven's Wunschkonzert, both in Barcelona and at the Haus Der Kunst in Munich.
Erica Wise began her musical studies at the age of five and playing the cello at the age of nine. She graduated from the Peabody Institute of John Hopkins University in Baltimore, where she studied under the direction of Ronald Thomas. At the New England Conservatory she completed a postgraduate degree with Collin Carr, Larry Lesser and Gary Hoffman.