DORKBOT 10th BIRTHDAY + BEFACO LIVE!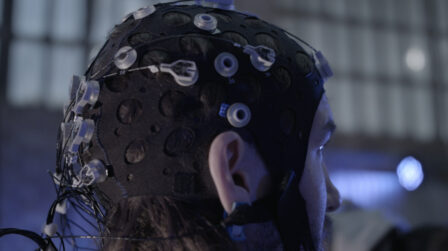 The newest edition of Dorkbot, the community of people who do strange things with electricity in Barcelona, will be celebrated next saturday June 6th. All the projects that are going to be presented in this edition, are pretty much centered around music, but not exclusively. The meeting will be in Hangar from 17:00 onwards, After the presentations, Befaco will perform with their modular synthesizers. The protagonists of this Dorkbot will be:
Félix Vinyals presenting: Torval
In the music creation process, do instruments help or hinder? How the fact of having a tangible element (the instrument) can make our musical creativity flow without restrictions? Do we really need instruments to make music?
Torval is an interactive installation that allows the participant create music through their brain and control the lighting of the space they're in through their emotional state. Is the closest to enter Matrix without taking any drugs.
Félix Vinyals is a digital artist who is centered in which he calls biotronic art and interaction with the environment.
https://vimeo.com/felixvinyals/torval
Alex Posada and Ravid Goldschmidt presenting: Oval
The Oval is an electronic musical instrument that connects to an App for smartphone or tablet and it can also be used as a controller connected to a computer. Inspired by the HandPans family of acoustic instruments, the Oval provides total freedom to create sounds and it's a tool geared towards music learning and performing.
The OVAL is totally MIDI-compatible so you can connect it to any software or device as long as it supports MIDI. It communicates with iPhones, Androids, iPads, Macs and PCs via Lightning or USB and it works with most music production softwares. Its exclusive app allows you to upload your own sounds and play them in different scales, download other user's songs and sounds, add effects, use it as a live looping tool, as it records sound on the fly and layer them and many other features
Andrés Costa Maluk presenting: Suicidio
Suicidio is a reflection about the mode of human existence and its tight link with oil. Suicidio wants to make the variation of the value of oil sensible in the international markets, collecting data from the internet in real time. The piece has a performative and temporal nature and it articulates as an experience where the different elements of the installation interlace with each other to create a system. This system acts as a simile of the human conditions of production and existence. The choice of oil as a topic is related to the importance that this combustible energy has in every area of the human production, being the car, its main archetype. This object allows to establish a series of links with the information industry, because of the central position that data has nowadays, and with the computational notion of real time and the implications that all these elements have in the field of computerized finance.
Andrés Costa Maluk is a Chilean artist whose work wants to critically investigate the ways we give sense to our medium.
Xavi Lloses presenting: Please Call Me!
The piece "Please Call Me!" is a telephone, a telephone number that anyone can call. This particular telephone picks up the number of the incoming call, and through an algorithm translates the number into a melody that plays immediately and activates a number of lighting devices.
Please call me, creates a link with every user, because the number of every incoming call has a unique melody. This is Phone Art.
Xavi Lloses Huguet is an anti pianist, composer and sonic terrorist. He is a multidimensional and multipurpose artist, he develops his activity in every field that art provides him.
Lightning Experience presents: Orbital Hoop
Orbital is a hoola hoop that adds magic and hypnotism to hoop dancing. It contains 76 RGB LEDs inside and the necessary electronics to control its performance. This and the human eye retinal retention, give the illusion of seeing images in the air, created by the light of the LEDs and the movement of the dancer.
Lightning Experience are Angel Muñoz, creative coder and electronic designer, Michela Pes, hoop dancer and Ignacio Datilo, artisan assembler.
Poblenou Crea! – Tallers Oberts de Poblenou @ Hangar
June 6, 2015
16h-18h – Open space: Instalaciones, demos, networking
18h – Presentaciones Dorkbot
20h – Performances
21h – Befaco Live!
Free entrance