DOSBCN studio presents: 4×4 with HARTOSOPASH + NIÑO + VANILLA KILLER + DOSBCN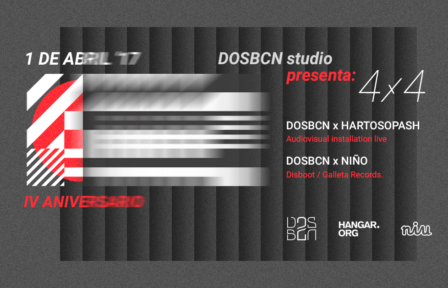 The Barcelona art and design studio DOSBCNstudio celebrates its fourth anniversary on April 1st starting at 7pm in collaboration with Hangar and Niu. The 4×4 session: an audiovisual installation that synchronizes live graphic content with acoustic structures generated by different Architects of sound. All through MIDI and DMX. In the first place they will travel through the strobe light with the select Niño sound compositions. And then: the acoustic experimentation of Hartosopash and the blunt and broken sound of the promoter i dj Vanilla Killer.
Dosbcnstudio: In 2013 DOSBCNstudio was born, a project that has been creating its business structure from friendship and daily work. It is formed by a multidisciplinary team of urban artists and canary designers based in Barcelona. They fuse digital tools with urban culture to generate new languages ​​within communication.
Niño: He makes music. He has participated in many different projects for almost two decades and continues to look, play and experiment as a way to understand it. Always with one foot in its origins and another in anything that does not sound conformist, its sound goes from hip hop to minimalism going through details of funk, jazz fusion, progressive rock or experimental electronic. He has released albums on national and international labels such as Disboot, Dødpop, Myor, Galleta Records or Donky Pitch. He has participated in festivals such as Sónar (Barcelona), Wildlife (Helsinki), Electronics in April (Madrid) or Impakt (Utrecht) With different musicians such as ElHombreViento, Melkeveien, Sunny Graves, Lost Twin, Urano Players or Garbanzo (with whom he forms Diploide) and has worked as dj, sound technician and composer for dance shows, short films, radio, television and audiovisual pieces.
Hartosopash: from Madrid currently based in Barcelona. He ​​began playing the guitar in a multitude of different groups of styles in Madrid's underground scene, and was gradually replacing people with sequencers, catching the taste to produce solo. In his facet as a producer he has published three works with Escandaloso Xpósito, the recent "Garimba" with Shrlstn and many collaborations with artists such as Mi.Amargo, Elphomega, Zemo, Big Menu, Juli Giuliani, …
Vanilla Killer: The artistic beginnings of Vanilla Killer have their origins in the most underground circles of Barcelona back in 2010, highlighting their passing through various national projects such as Rompenúcleos that have brought him considerable experience as a DJ and promoter. At the moment it is part of Cientosesenta, collective dedicated to promote the Footwork, original style of Chicago, in Spain. Despite working with a wide range of sound, his speech finds a strong link in the force with sets always loaded with subwoofer and broken rhythms. Each session is a review of the essential topics of avant-garde music, always with subtle winks to the old school.
Admission: 5 EUROS (anticipated) / 7 EUROS a (door). All the money from the tickets go to the artists.