Jessica Ekomane / Tutu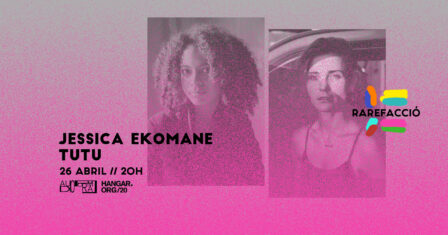 On 26 April at 8 pm Hangar presents the third session of Rarefacció, a cycle that aims to make known proposals that revolve around music and sound from an experimental and unconventional perspective with Jessica Ekomane and Tutu.
Jessica Ekomane / Tutu
Date: April 26, 2019
Time: 8 p.m.
Fee: 3 € + free tote bag
Jessica Ekomane
Jessica Ekomane is a French-born and Berlin-based electronic musician and sound artist. Her practice unfolds around live performances and installations. She creates situations where the sound acts as a transformative element for the space and the audience. Her quadraphonic performances, characterized by their physical affect, seek a cathartic effect through the interplay of psychoacoustics, the perception of rhythmic structures and the interchange of noise and melody. Her ever-changing and immersive sonic landscapes are grounded in questions such as the relationship between individual perception and collective dynamics or the investigation of listening expectations and their societal roots.
Jessica Ekomane is one the composers chosen as collaborators by Natascha Süder Happelman for her installation at the German pavilion of the Venice Biennale 2019, alongside Maurice Louca, DJ Marfox, Jako Maron, Tisha Mukarji and Elnaz Seyedi. She's also part of the SHAPE Platform roaster of artists for 2019. A Berlin Community Radio [INCUBATOR] resident for their 2017 edition, she now hosts a monthly show on Cashmere Radio. "Open Sources" is focused on linking folk and traditional music with contemporary musical experiments.
Tutu
The sessions of Tutu are odes to life, between pure adrenaline and the most genuine curiosity. Like windows that open to horizons both near and far, her sets run through the landscape with the same intensity that she lives other creative facets of her life. With a spectrum of sounds that range from bass house to cosmic trance, abstract grime, schizophrenic tribalism and acid tech- no, Tutu on the decks can go from underground dance to the most experimental sounds, which direct the feet and maintain the brain occupied with sensations that run skin deep.
Gemma Planell has performed under the Tutu pseudonym for a number of years, always displa- ying exquisite taste and personality, with her DJ sets putting into practice her idea of storytelling. Preferring to remain out the spotlight and away from media attention, she has forged a personal style heard in clubs and festivals, with online recordings of sets and mixes for radios and maga- zines that demonstrate her unique talents. A recent example was her contribution to the Female Pressure series with a mix that only included tracks produced by women.
www.senzubeans.org
www.facebook.com/tutumusique
www.twitter.com/tutumusique
www.soundcloud.com/tutumusique
www.mixcloud.com/tutumusique