Ensemble Economique / David M. Romero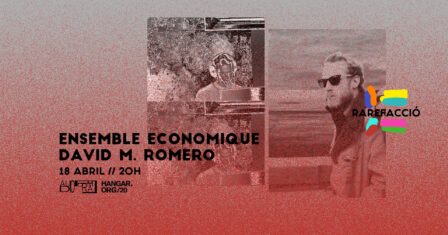 On 18 April at 8 pm Hangar presents the second session of Rarefacció, a cycle that aims to make known proposals that revolve around music and sound from an experimental and unconventional perspective with Ensemble Economique and David M. Romero.
Ensemble Economique / David M. Romero
Date: April 18, 2019
Time: 8 p.m.
Fee: 3 € + free tote bag
Ensemble Economique
Ensemble Economique is California-based musician Brian Pyle, who creates music ranging from dark minimal techno to shamanic drones to mystical, echo-heavy psych to shadow-dwelling goth/darkwave. Active since 2008, he has released numerous albums with such labels as Not Not Fun, Shelter Press, Dekorder, Hands In The Dark and Denovali. His newest album, Radiate Through You, something of an expressionist memorial or therapeutic song cycle, was released in September 2018 on Denovali Records.
https://denovali.com/ensembleeconomique/
https://soundcloud.com/ensemble-economique/ensemble-economique-live-on-urgent-fm
David M. Romero
David M. Romero is the Barcelona based founder, designer and curator of the angoisse label.
He has collaborated with mixes for platforms such as NTS Radio (London), Grey Matter Archives (Tokyo), Rocket Radio (Verona), Dublab (Barcelona) and SHCR (Shanghai) and has most recently DJ'd at the label showcases in Tokyo, Okazaki and Osaka, the release event of the Lag Os EP at Hangar, the Saturnalia fest 2018 in Macao (Milan) and the first Zen55, a regular club night and collective based in Barcelona in which he also plays an active part as a co-founder and organizer.
www.angoisse.site
https://soundcloud.com/angoisse
https://soundcloud.com/angoisse/sets/mixes