La Sra. Tomasa presents "Live Sessions" at Hangar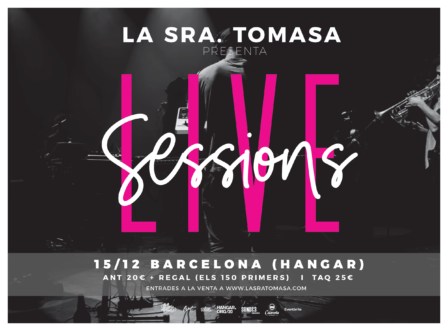 On Saturday 15th and Sunday 16th December Hangar will host, within the framework of the Hangar Sonor programme and in collaboration with Niu, four presentations by the band La Sra. Tomasa. The shows will take place both days at 7 p.m. and 9 p.m.
Mrs. Tomasa ends her 2018 tour in a peculiar way: the show, close and whispering and that they have baptized as "Live Sessions", will review the series of songs published during this last year. At the same time, they will take a walk through the works of the artists collaborating with this groundbreaking band, the result of fusing the latest trends in electronics with Latin music (among others). The words elegance and contemporaneity define the project.
The format of the concert will be without platforms, since for this occasion horizontality and short distances are crucial. They will also have the company of different artists who collaborate or have collaborated with the group. In fact, Ms. Tomasa's members explain their project in this way: "to share space with people of incredible talent that everyone should know".
Ticket: 20 € (Tickets available for Sunday. Tickets for Saturday sold out).