Nuova Superficie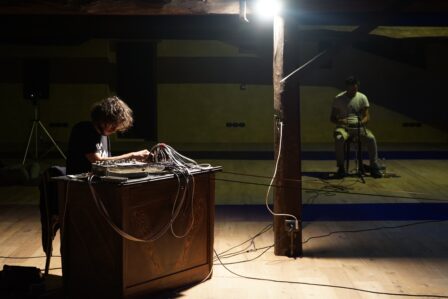 On 23 January at 8 p.m. the Ricson Hall in Hangar hosts, in collaboration with Phonos, the presentation of Nuova Superficie, a project led by Enrico Malatesta and Giovanni Lami.
Lami and Malatesta hybridise digital and analogue devices, animal skins, stones, woods, hi-fi microphones or tape recorders, adapting them to each space in which they perform, in which the audience is free to walk around the room, looking for their own place to listen and approaching the experience from a broader state of consciousness. An incessant negotiation between the details of the sound mass and the sonido-horizon (as a lack of balance) and the interaction with the space that houses the performance is the basis of the project, which could be considered halfway between electroacoustic music and site specific action.
Enrico Malatesta is an Italian percussionist and sound researcher active in the field of experimental music, sound intervention and performance; his practice explores the relations between sound, space and body, the vitality of materials and the morphology of surfaces, with particular attention to the percussive acts. His research path is characterised by a strong emphasis on the ability to produce multiple information with simple actions, the motion and definition of the experience of listening and sustainability of the presence of the performer through the sound.
Giovanni Lami works with samples, crops and realtime signal processing (analog or digital). His research is related with the study of resonant surfaces, degradation processes and the limits of devices used to record and/or reproduce sound. In 2016, with Enrico Malatesta and Glauco Salvo, he founded MU, an independent association devoted to sound-experiences, acting as a listening platform to develop fresh and smart workshops, listening sessions, gigs and conferences in central Italy.
Free entrance.