Female Laptop Orchestra (FLO): Transmusicking III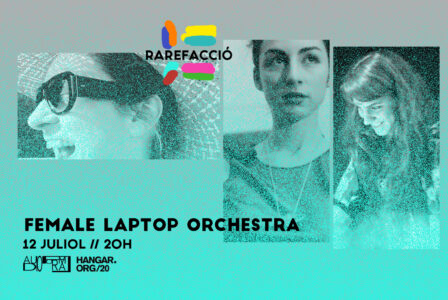 On 12 July at 20 p.m. Hangar presents the last session of Rarefacció, a cycle that aims to make known proposals that revolve around music and sound from an experimental and unconventional perspective with Female Laptop Orchestra.

In this session, there is also a workshop to be held on 11 and 12 July from 5 p.m to 7.30 p.m.
Transmusicking III
Date: 12 July 2019
Time: 20 p.m.
Entrance fee + tote bag: 3 €
Female Laptop Orchestra (FLO) is a music research project connecting female musicians, sound artists, composers, engineers and computer scientist globally, through co-located and distributed collaborative music creation. Each performance is site-specific and performer-dependant, mixing location-based field recordings, live coding, acoustic instruments, voice, sound synthesis and real-time sound processing using Web Audio API's and VR environments with audio streams arriving from different global locations (via the internet and mobile networks). From stereo to immersive 3D audio (and everything in between), FLO is pushing the boundaries of technology and experimentation within the context of ensemble improvisation and music collaboration. Following on from Transmusicking I (performed at the Audio Mostly conference in London in 2017) and Transmusicking II (performed at the Sonic Arts Research Centre at Queen's University Belfast in 2018), Transmusicking III continues to explore the geographical, cultural, technical and artistic challenges of collaborative music making with co-located and globally distributed musicians. The performance of Transmusicking III will last around 40 minutes, after which there will be a short Q&A session.
Dates: 11-12 July 2019
Time: 5 p.m to 7.30 p.m
Price: €40/€20 (50% discount is available to female participants, as we want to encourage more women to work with music technology)
Maximum number of participants: 20
Please book your place at the workshop by filling the inscription form.
In Part 1 of the workshop, we will discuss strategies for creating, rehearsing and performing new work using analogue and digital means of music production and freeform improvisation. We will talk about communication and interaction patterns that naturally emerge between musicians which are co-located (playing together in the performance space) and musicians which are globally distributed (contributing to the performance remotely over a mobile or internet network). We will also learn about the ways telematics can be incorporated into an ensemble performance, the challenges of performing remotely using your mobile phone or a laptop connected to the internet, and how some of the issues concerning real-time monitoring can be resolved. For participants who have not yet used any digital tools to create music/process instruments/voice, we will cover some basic principles of live performance and real-time audio processing using software/hardware.
In Part 2, we will separate into smaller groups. Each group will create a short piece of work using instrumentation available within that group. We will discuss artistic ideas and the technological challenges of performing work within the context of an electroacoustic ensemble, and talk about the opportunities for experimentation and learning through collaboration. Each group will create a 'score', which they will use to rehearse and perform their piece. At the end of each performance, we will reflect on the process of creation and collaboration and look at the steps for further development of this kind of artistic practice.
What to bring? Please bring your laptop, a pair of headphones, any acoustic or electric instrument you would like to play (voice counts too!), and any software or hardware (audio interfaces/microphones/midi controllers/cables) you are currently using to make/perform music. We will have an analogue mixing desk, PA speakers, a few microphones for amplifying the acoustic instruments/voice and a few cables to connect the gear to the mixing desk.