Multifocal Hangar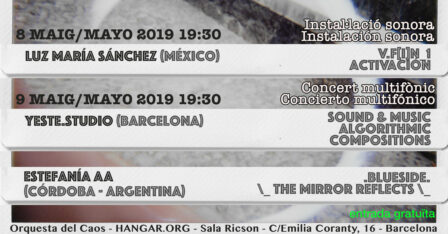 On 8 and 9 May at 7.30 pm Hangar hosts a new Multifocal Hangar session organised by Orquesta del Caos. The presentation of the installation V.[I]F1 and the book "Sonar. Navegación/Localización del sonido en las prácticas artísticas del Siglo XX", both by Luz Maria Sanchez and on 9 May, the multifocal pieces "Sound & Algorithmic Compositions", by Yeste.Studio, ".Blueside." and "\_The Mirror Reflects \_", by Estefanía AA.
The event will be held in the Sala Ricson.
Free admision.
With the collaboration of Hangar, ICIC and ICUB.