IKLECTIK [OFF-SITE] BARCELONA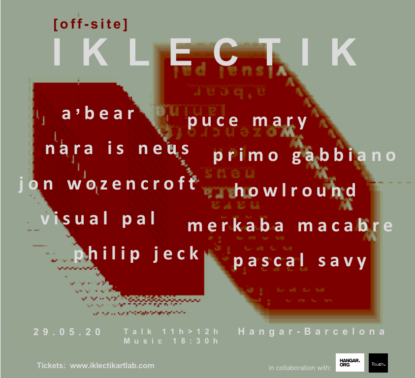 POSTPONED ACTIVITY. NEW DATE TO BE CONFIRMED.
On Friday 29th May IKLECTIK lands in Barcelona to present, in collaboration with Hangar and Touch, a unique night of experimental electronic music. In this third edition -the first in Barcelona-, IKLECTIK brings to Hangar Puce Mary, Pascal Savy, nara is neus, Howlround, Nad Spiro, Merkaba Macabre, Philip Jeck, A'Bear, Primo Gabbiano & Visual Pal.
The event will be accompanied by the conference TOUCH PHOTOGRAPHY PAINT by Jon Wozencroft, founder of Touch, who will also present for the first time in Barcelona his audiovisual project Touch Movement.
Programme
Talk by Jon Wozencroft. (Doors 11:45 am. Language: English). Entrance fee: € 3.
12:00 – 13:00 TOUCH PHOTOGRAPHY PAINT
Why does music and sound need any visual counterpart?
How is it that images come to define our sonic experience (what would Unknown Pleasures be without the waveforms?).
Close your eyes and experience deep listening.
Open your eyes to experience the witnessing.
This is a short discussion about the ecologies of perception, the blur between photography and painting, the fact that we like to treat sound as the separated and not the first sense. We see the change happening
and it's not new.
Concerts. (Doors 18:30 pm.). Entrance fee: € 12.
19:00 – 19:30  nara is neus
19:45 – 20:15  Primo Gabbiano & Visual Pal
20:30 – 21:00  Philip Jeck
21:15 – 21:45  Pascal Savy
22:00 – 22:30  Howlround + Merkaba Macabre22:45 – 23:30  Puce Mary
23:40   A'Bear
Nad Spiro DJ (between sets)
Tickets here.