Les Atxes, Ella Ella & Ran Ran Ran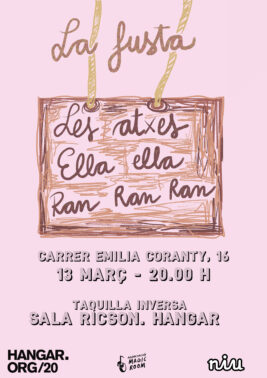 POSTPONED ACTIVITY. NEW DATE TO BE CONFIRMED.
On 13 March 2020 at 8pm Hangar will host, in collaboration with NIU, the live performance of Les Atxes, Ella Ella i Ran Ran, presented by the cultural promoter and music label Magic Room.
Free admission.
Les Atxes: https://lesatxes.bandcamp.com/
Ella Ella: https://ellaella.bandcamp.com/
Ran Ran Ran: https://ranranran.bandcamp.com/