Màgia Roja presents Nova Ona II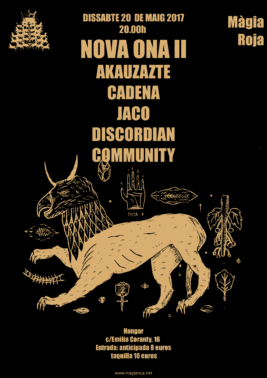 On 20 maig will take place the second edition of the festival Nova Ona organized by Màgia Roja in Hangar featuring Akauzazte, Cadena, Jaco y El Pricto.
AKAUZAZTE
https://akauzazte.bandcamp.com
Akauzazte are the last secret band in Europe. From their H.Q. at the Azkoitia abandonned abbatoir (Matadeixen) over the last twenty years they've always taken their time to perfect their records, their discography is vast, and they've evolved their sound in each one taken risks which few "sacred cows" would take.
Between the industrial tribalism of Missing Foundation, the crushing force of early Swans (not in vain their rhythmic section is comprised of two drums and two basses) and their own deconstructed version of black metal or power electronics.
Most bands in industrial/noise music scenes are markedly urban, Akauzazte on the other hand sound rural, ritualistic and mystical. An oasis of ritual psychedelia and basque industrial "folk" with ancient horn instruments and deteriorated and destroyed guitars that sound as though their amplifiers are about to explode.
CADENA
https://bostonpizzarecords.bandcamp.com/album/0857-7-bpr033
Formed in 2015, CADENA is a three-piece combo refreshing the hardcore punk and industrial rock traditions, and distilling them into a saturated and contemporary sound that is close to the most plastic-like noise rock.
DISCORDIAN COMMUNITY ENSEMBLE
https://www.youtube.com/watch?v=V-F9qBBUwts
Directed by Pricto at conduction and saxo, a formation of two drums, an electric bass and electric guitar; they'll offer a impro freely based on the classical story of the Hounds of Tindalos.
Prictófeles: saxo, veu y direcció; Diego Caicedo: guitarra elèctrica; Carlos Ródenas: baix elèctric; Vasco Trilla i Enric Ponsa: bateries.
JACO
https://jacoad.bandcamp.com/releases
One of the most restless artist of Barcelona who didn't stop growing in the last two years, combines the cold of the post-punk and industrial with the warm basses of hip hop. Armed with his knifes, metal pieces, drum machine and samplers he builds a minimalist deep musical background for his enigmatic lyrics, formed by referencies and memories that mix together in an oniric way, creating a unique ambient.