Marta de Pascalis, Fließgewässer & Shoeg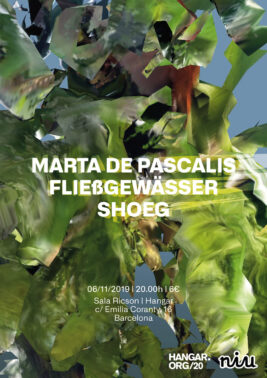 On Wednesday 6 November at 20 h Hangar hosts, in collaboration with Niu, the live performances of Marta de Pascalis, Fließgewässer and Shoeg.
Marta de Pascalis, Italian composer living in Berlin, visits Barcelona for the first time with her analog synthesizers and tape loops, weaving subtle textures with constant and repetitive patterns.
Fließgewässer is a mysterious project that revolves around ambient/experimental music and originates from fortuitous conversations about unexplored territories, indigenous cultures, climate change and the general approach to an uncertain future.
Shoeg is Carlos Martorell's solo project (Ensemble Topogràfic, void). He presents his live AV, based on his latest album Container (Orange Milk, 2018), which moves between the concepts of standardisation, classification and comfort zones, in an exploration with motion sensors and visuals reactive to sound.
Admission: €6 (Collaboration for artists).