Modular Day #4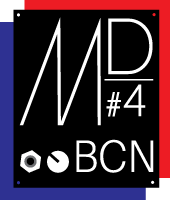 Knobshop and Befaco, in collaboration with Hangar, present the new edition of Modular Day, the festival of modular synthesizers in Barcelona.
Modular Day is a festival of modular synthesizers that brings us a fair with distributors and stores of the modular world, as well as a workshop area dedicated to the manufacturers of synthesizers DIY and live performances.
Schedule
Synth Fair September 9th from 10:30 a.m. to 7:30 p.m.
Showcase of modular synthesizers. We will count on the main manufacturers showing their innovations.
Eurorack DIY Workshop September 9th from 10:30 a.m. to 7:30 p.m.
As every year we will have a DIY zone in parallel with the trade show. Come and build your own eurorack modules with the help of leading designers.
Day Shows September 9th from 19:30 to 21:30
Performances by Cristian Voguel, Jeremy Bernstein, Linalab, Ruido y Tortura, Me-Lenna ( VJ).
Night Shows September 9th from 10:00 p.m. to 03:45 p.m.
We're partying to Begood! We will have a night with luxury line up: Mark Verbos, Dan Snazzelle, Pina, Ralp, HTRL and Amsia.
Musical programming with Owl September 10th from 10:30 a.m. to 2:30 p.m. – 30 €
Learn to program effects and synths for the Owl. Martin Klang (Rebel) and Jeremy Bernstein (cycling74) show us how to program for this hardware in both Gen and PD.
More info on modulardaybarcelona.org