(Català) NØVAK presenta Tecib, Ô Paradis, Catástrofe Club i Refectori en directe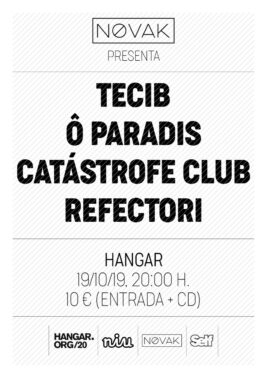 On 16 November at 8 pm Hangar hosts, in collaboration with Niu, the meeting of the NØVAK label with live performances by Tecib, Ô Paradis, Catastrofe Club and Refectori. NØVAK is a record label based in Barcelona, which does not distinguish between electricity and electronics. It worships the CD, spreads stylistic chaos and encourages impossible mixtures.
Tecib is the name under which Fermín Durán has been working since the beginning of 2016 to sign his solo projects. Predominantly experimental electronics, which tries to be further and further away from any label, beyond the predominance of electronics in what it does. Dark Light (2016), Scattered Fluctuations (2018), Angst (2016 to 2018) (2019) and the next, Collisions (2019), are the fruits of Tecib so far, all available in Nøvak.
Ô Paradis is Demian Recio, and so it is from 1999 to the present day. He has 25 albums, both individual and collective. His music runs between pop, folk, experimental and industrial.
Catastrofe Club is the unclassifiable project with headquarters in Roca Umbert Fàbrica de les Arts (Granollers, Barcelona), formed by Josep Maria Herrera and David Molina, with the support of Pablo García Godoy for their live performances. They gave birth to their first work, Galletas (Molusco Discos), in 2015; and the second, Ejercicios de Visión (Hidden DIY), in 2018.
Xavier Longàs is Refectori. In 2014 he debuted with the EP Carreus in digital format. He continued with Still Life (Bestiarie) on cassette in 2016. And in 2019 it culminated with the publication of his first LP, Espleni, by Hedonic Reversal. He practices a very deep techno, with shady landscapes and cold atmospheres, softly noisy and of enigmatic beauty.
Entrance fee: 10 € (includes CD)