Octavi Rumbau – Duo Links – Trami Nguyen / FREC / at Hangar Sound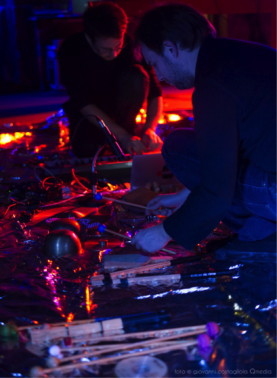 On October 19th, Hangar hosts, within the framework of Hangar Sonoro, the FREC presentation by Octavi Rumbau, Duo Links and Trami Nguyen.
The project 'Frec' was born from the collaboration between the Barcelona composer Octavi Rumbau, the French music group Duo Links formed by the brothers Rémi and Laurent Durupt and the video-artist Trami Nguyen. 'Frec' is the result of years of collaboration with these three artists in other projects of diverse format.
The Duo Links (and its ensemble) is one of the most prominent music groups of the contemporary Parisian underground scene. This French formation works with projects that include classical-contemporary musical creation, improvisation, electronics and work with dance. The video-artist and pianist Trami Nguyen is also part of this collective.
In order for two sounds of such a distant nature, such as acoustics and electronics, to "rub" each other, a strong imbrication is necessary rather than mere cohabitation. This close relationship is one of the main issues on which Octavi Rumbau's recent work revolves, through the "live" generation of synthetic sounds through the parametric control of acoustic instruments. In other words, that the electronic sounds are generated in real time during the concert through the action of the acoustic instruments but, at the same time, these are subordinated to the centrifugal force of the electronics, action / reaction.
The technology allows to interweave the two universes with an extraordinary organicity. The instrumentalist gesture is intimately linked to electronic figuration; as if it were a brush stroke, the instrumentalist designing the electronic sound based on the parameters predefined a priori by the composer. It is a round trip between the instrumental and electronic world.
Pieces:
'Frec' música d'Octavi Rumbau / 'Anthropolyphonia' vídeo de Trami Nguyen
interpretat per Rémi et Laurent Durupt
[obra realitzada amb el suport de l'OSIC del Departament de Cultura de la Generalitat de Catalunya]
'Nomansland' música i video de Céline Pierre
interpretat per Elodie Gaudet
[obra realitzada al CRR-Reims i al CNCM Césaré amb l'ajuda Création-Arts Visuels de la Région Grand Est i Musique de la DRAC Grand Est]
'Studi Sulla notte' música de Laurent Durupt / 'Addio al corpo' slideshow de fotografies de Trami Nguyen
interpretat per Remi et Laurent Durupt
Ticket: 5€