One Drone Day 3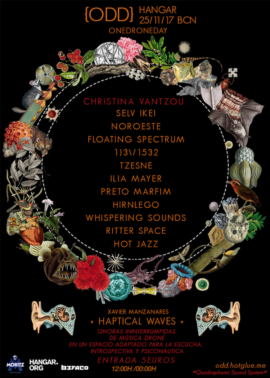 One Drone Day is an immersive music festival which produces its 2nd edition on Saturday the 26th of November, during an intensive 12h journey with no pauses.
CHRISTINA VANTZOU · NOROESTE · ILIA MAYER · SELV IKEI · FLOATING SPECTRUM · RITTER SPACE · TZESNE · PRETO MARFIM · HIRNLEGO · DAVID RUNGE · WHISPERING SOUNDS · HOT JAZZ
This sonic event is characterized by the absence of light/visual stimuli, mainly focusing on the auditive layer in an immersive mode. Audience enjoys several live sets in horizontal position or a comfortable position. The audience and listening are central and artists are performing live sets along the perimeter of the room. Live Music Drone during 12h in a unique space with quadraphonic sound system for a relaxed listening, introspective and psiconautics.
Drone music is characterized by the absence of rhythmic patterns. Sonic fluxes of variable intensity which develops narrative changes into microscale (textures, timbers, particles, etc) expanded in very large time scores.