One Drone Day IV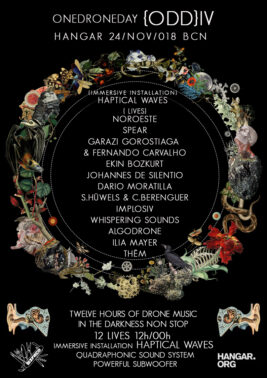 Next Saturday 24th November the immersive music festival One Drone Day returns to Hangar. Twelve uninterrupted hours (from 12pm) of live Drone music, in a single space with a quadraphonic sound system and adapted for a relaxed, introspective and psycho-nautical listening.
This sound event is characterized by the absence of visual and light stimuli, focusing mainly on the auditory level in an immersive way. The audience enjoys different live performances in a horizontal and comfortable position. The audience and the listen become central and the artists offer the performances in perimeter positions in the room.
Drone music is characterized by the absence of rhythmic patterns. Sound flows of variable intensity where changes of narration are developed at a micro level (textures, timbres, particles, etc.) extended in very long times.
On this occasion, the artists selected through open call that will participate in the ODD are:
NOROESTE · SPEAR · GARAZI GOROSTIAGA & FERNANDO CARVALHO · EKIN BOZKURT · JOHANNES DE SILENTIO · DARIO MORATILLA · S. HÜWELS & C.BERNGUER · IMPLOSIV ·  WHISPERING SOUNDS · ALGODRONE · ILIA MAYER · THEM ·