Synth Vicious' launching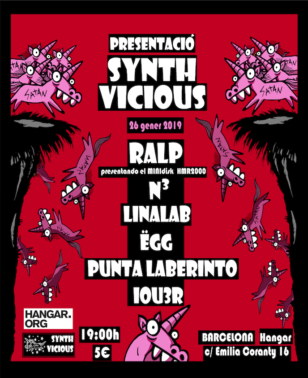 On 26 January 2019 at 7 p.m. the Sala Ricson in Hangar will host, as part of Audio Formal, the presentation of the record label Synth Vicious. Synth Vicious is an initiative born in Hangar that aims to facilitate the publication of works by artists who move between electronics and sound experimentation.
The presentation, which coincides with Ralp's new release, will feature concerts by artists who have released a reference with the label such as N³, Iou3R, Linalab, Punta Laberinto and ëgg.
The doors will open at 7 p.m. and there will be a donation of 5€ at the entrance that will be entirely destined for artists.
The concerts will last 30-35 minutes.