Benjamin Weiss / Kentaro Terajima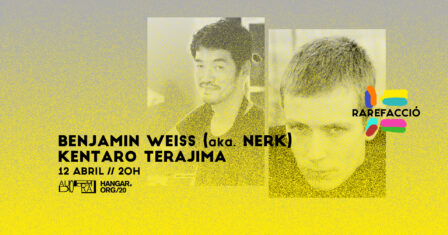 On 12 April at 8 pm Hangar presents the first session of Rarefacció, a cycle that aims to make known proposals that revolve around music and sound from an experimental and unconventional perspective with Benjamin Weiss and Kentaro Terajima.
Benjamin Weiss (aka. Nerk) / Kentaro Terajima

Date: April 12, 2019
Hora: 9 p.m.
Precio: 3 € + free tote bag
Benjamin Weiss
Benjamin Weiss aka Nerk is one part of German techno duo Toktok.
He was born in Kassel and moved to Berlín in 1993. Toktok formed an important part in Berlin's early underground techno scene and then they got major hits when they teamed up with Swedish singer Soffy O in 1999.
Apart from producing and performing music with other collaborators such as Peter Kirn, Dirk Leyers, Khan and several others, he also wrote for Frontpage Magazine, Keyboards and founded and wrote for the now discontinued De:Bug Magazine (1997-2014) and Engadget Germany as well as doing the concept and UX for the iOS app Modstep.
Currently he is working for Native Instruments as Senior UX Designer.
Kentaro Terajima
Kentaro Terajima is a graphic designer from Tokyo and currently in Barcelona. Since his first trip to Berlin in 1998, techno is a part of his life, sometimes it occupies more and the other time less, but it is always there.
In Tokyo, he was organizing the party called "ABEND" with friends, which was a meeting point for local DJs/artists in Tokyo and Berlin.
From time to time he DJs and organizes events in Barcelona.
https://www.mixcloud.com/terajimakentaro/
Event: https://www.facebook.com/events/398368670983694/