Snazzy FX workshop + HRTL, Dan Snazelle & AMSIA shows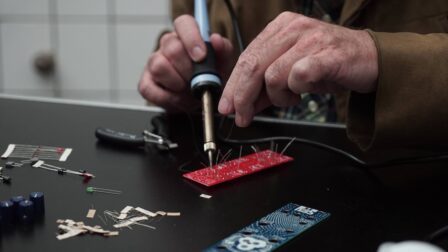 On Saturday, May 12, the collective in residence Befaco is organizing a day of modular synthesizers in Hangar within the framework of the Hangar Sonoro program. Starting at 11 am, Snazzy FX will give a Eurorack workshop in kit format. The available kits are:
KITTY EYES – 90 €
Dual Multiplier – € 100
Kick ME – € 100
Eternal filter – € 120
ROLLOFF DJ EQ – 70 €
To register, you must buy this item on the Befaco website. The cost of the reservation will be reduced from the final price of the kit, which will be paid in cash. For further information, send an email to manu(at)befaco.org
After a soldering session, the Ricson Hall will host a night of modular dance music.
From 9:00 pm there will be live performances by HRTL (CZ) and Dan Snallelle (US) and a session by Dj Amsia.
Entrance fee 5€