From Musicking to Transmusicking by Andrea Bravo, Nela Brown and Tuna Pase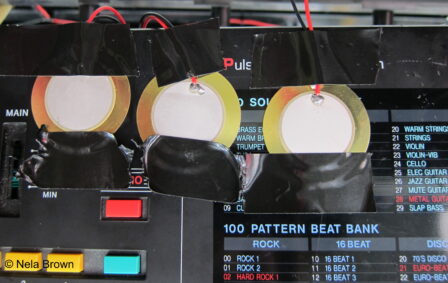 On July 20, Hangar hosts a collaboration between Andrea Bravo (creative technologist), Nela Brown (sound artist) and Tuna Pase (musician), who are part of the Female Laptop Orchestra (FLO) project, that will combine a workshop about improvisation, collaborative music making and telematics and a performance, in which the workshop participants will be invited to participate.
During the workshop we will discuss opportunities and challenges of collaborative music making with performers which are co-located (in the same space) and/or distributed (streaming sound over the internet), what tools you might use, how you would prepare for such a performance, and how you would document the event. To participate in the workshop/ performance, please bring your musical instrument (this could also be your voice), laptop, headphones, any cables, software and audio hardware you are using to make noise/ sound/music.
Andrea Bravo is a creative technologist, visual designer and educator specializing in high impact images. Its transdisciplinary approach combines photography and visual strategies with coding technologies, biosignals and human-computer interaction. His work focuses on integrating experiences that combine art, science, technology and society. In 2015 the Aquaquinta project began with Massaru Emoto's partner in Europe, merging biomedical technologies with photography; leading her to experiment with biosignals, music and visual effects. He has exhibited and acted, among others, at the Palais de Tokyo, Paris; Soho Academy, Rome; LOOP Festival, Barcelona; Espronceda Art and Culture Center, Barcelona. He is currently working on a thesis on home-computer interaction technologies and virtual reality at CMTECH Lab.
Nela Brown is an award-winning technician, sound artist, researcher and teacher with experience in classical music, jazz, sound arts, engineering and human-computer interaction. In the last decade, he composed music and sound design for many international projects, including theatrical performances, dance, mobile devices, films, documentaries and interactive installations. In 2011, G.Hack began, an art and technology laboratory for women researchers. In 2013, he received the WISE Leader of Ana of the United Kingdom Prize and in 2014 he founded the Female Laptop Orchestra (FLO), bringing together an eclectic group of women musicians, composers, sound artists, engineers and computer scientists interested in exploring the creation of 'collaborative music distributed and distributed in different contexts and in different geographic locations.
Tuna Pase is a musician, ethnomusicologist, free improviser and lecturer. Her areas of interest are: electro-acoustic composition, sound design and sound art. She has a BA in musicology, MA in ethnomusicology and discontinued PhD in Sound Engineering and Design. She plays electronics, flute and sings. She performs her music solo and also collaborates with others in an improvised manner, where she composes live, using the elements that build her music from scratch. She performs in concerts and festivals, and participates in projects in Europe, the United States, and the Middle East. She collaborates with other free improvisers, visual artists and dancers from many different countries. She has solo and collaborative albums. She also appeared on "The Anthology of Turkish Experimental Music" with her piece Nefes which is published by Subrosa. She teaches Audio Culture, Audio Craft, World Music and Popular music in Istanbul Bilgi University.
Ticket: € 3
Workshop: 18.00-20.30
Performance: 21.00
To sign up for the workshop please write an email to: nelabrown(at)gmail.com
https://femalelaptoporchestra.wordpress.com/