TUPPER_6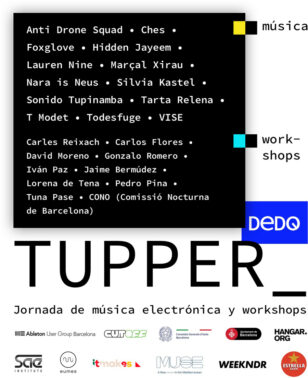 On Saturday, January 25, from 12 noon to midnight, Hangar hosts the 6th edition of TUPPER Barcelona, the annual electronic music and workshop day. Promoted by the cultural association Dedo and the Ableton User Group of Barcelona, TUPPER_6 aims to encourage electronic music creation in the city, as well as to promote and energize the local scene. However, the meeting will also include proposals from the national and international scene.
TUPPER_6 presents the art and knowledge of dozens of professionals in different formats: live shows, workshops, presentations, demos or talks. Among other artists, this year the TUPPER_6 has the live presence of Anti Drone Squad, Ches, Floxglove, Hidden Jaye, Lauren Nine, Silvia Kastel, Nara is Nieves, Tarta Relena, Sonido Tupinamba, Todesfuge, VISE and Marçal Xirau.
As for the workshop section, it has programmed workshops by Carles Reixach, Carlos Flores, Pedro Pina or Lorena de Tena, among others.
Ticket: Free until 5 pm. From 5pm: 7 euros (includes entrance to Razzmatazz -night-).
More info at tupperbarcelona.com and Facebook.