After Post-Truth: 2nd Interface Politics Conference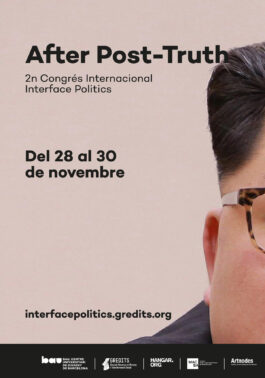 Hangar collaborates in After Post-Truth, the second edition of the International Congress Interface Politics organized by Bau Centro Univesitario de Diseño y Gredits and in which MACBA and the publication Artnodes also collaborate. Within the framework of this collaboration, Hangar will host the 29th of November part of the second day of the congress, in which there will be different presentations that will revolve around critical creativity in the era of multitruths and where the workshop Text & computational biases by Ramin Soleymani will be held.
The 2nd Interface Politics Conference encourages not only the academic community, but also artists, designers and activists to share their experience and analysis of the mutations in the regime of truth in our society, as well as their observations on radical creative or educational practices that expose, subvert or transform the apparently natural order of public discourse.
The conference will be focused on three main topics:
– Contemporary mutations in the semiotic production of truth
– New forms of power in a networked society and the future of public sphere
– The crisis of traditional representation and new ways of seeing (the design of transparency, aesthetics of obfuscation, and user subcultures)
You can check the program here.
Registration here.