Circo de Sastre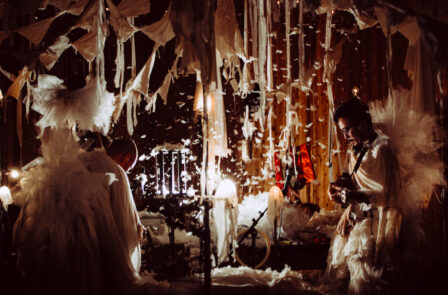 Hangar, in collaboration with the Niu, is hosting the presentation of Circo de Sastre, which is held on 8, 9 and 10 November in the Sala Ricson. For the first time in Barcelona, Circo de Sastre presents a stage proposal that transgresses traditional theatrical genres, offering a music show, a new circus show, a sewing lesson, a performance and a play. Suzuki Takayuki, with his sewing machine, creates the scenography live, dressing the space and its crew with metres and metres of fabric, Daiho Soga, from the Dub Monks Cinema, improvises a musical landscape with some instruments made by himself and others traditional, while Takashi Watanabe modifies the perceptions of the human eye playing magic with light.
Carriers of their own genuine message, Circo de Sastre presents a story woven of sounds, fabric and light where the spectator will feel transported to a distant place of known sensations.
Schedule
Friday 8/11: 20:30 h (Door opening 20 h)
Saturday 9/11: 20:30 h (Doors open 20 h)
Sunday 10/11: 18:30 h (Doors open 18 h)
Tickets
Tickets at the box office: 12 €.
Advance tickets: 10 €.
Show suitable for public from the age of 2.
Each adult can enter for free one child under the age of 12. No prior ticket is required for the minor.
For further information, please contact Niu: 93 356 8811.