DSIPLAY: Open networks and open knowledge. Asset protection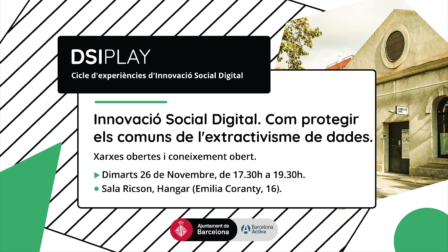 On 26 November at 5:30 p.m., Hangar hosts the meeting Open Networks and Open Knowledge. How to protect commons from asset extraction within the framework of DSIPLAY. Promoted by Barcelona City Council and Barcelona Activa, DSIPLAY is a cycle of activities that aims to provide a space for meeting and conversation of communities typically of digital social innovation with other groups in the city to exchange, debate and learn from each other, creating an environment that lays the groundwork to give visibility, disseminate and scale this culture among other communities of creators and entrepreneurs.
Open networks and open knowledge. How to protect commons from asset extraction
The open design of projects with community perspectives faces the phagocytization of its assets by the parasitic capitalism of platform, the one that attentive, seeks to steal imaginaries of social projects. That is to say, the "vampire neocon" is a fundamental figure in the business environment that specializes in the "observation" of innovative ideas in order to take them and turn them into closed business models, in the style of extractive capitalism.
We are experiencing a crisis as far as this scenario is concerned, which forces us to generate vital questions for open source projects: how to protect assets from business appropriations, what assets to liberate and what to manage in a more extensive way, what protection protocols do we currently have in the face of these aberrations, does opening up the source code of projects mean handing them over to the market, does not opening it turn us into incongruent beings and destroys our projects, etc?
Drawing the attention to this scenario, the objective of the conference is to bring together a group of specialists linked to open design projects with community methodologies and work on possible future paths for this problem. The work will begin with trying to define what Digital Social Innovation is at the local level to move on to work on the driving questions of the day.
Participants
Befaco – Manu Retamero https://www.befaco.org/es/
Mario Santamaría – artistahttp://www.mariosantamaria.net/
Makea – Efraín Foglia http://www.makeatuvida.net/
Goteo – Javier Carrillo https://ca.goteo.org/
"Decidim": Angela Precht and Andrés Lucena https: / /decidim.org/es/
Karma Peiró  https://www.karmapeiro.com/
The session is free and open to all, although prior registration is necessary because places are limited.