Gutter Fest: Graphic Self-Publishing Festival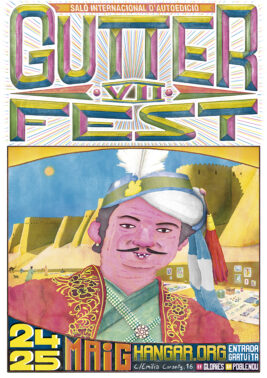 On 24th and 25th May Hangar hosts the seventh edition of the self-publishing festival, the Gutter Fest graphic and sound self-publishing festival. On this occasion, the festival brings together nearly 150 exhibitors from all over Spain and part of abroad, as well as collectives and creators from France, Italy, Latvia, Venezuela and South Korea, among others. As every year, in addition to the fair there will be other activities such as expos, screenings, workshops and concerts of self-published bands.
Free admission.
Timetables:
Friday 24 May: 4 p.m. to 12 p.m.
Saturday 25 May: 11 a.m. to 12 p.m.
Participants:
¡Y UN CUERNO! EDICIONES, Abanico de tabaco, Ainhoa GoGreen, Alba Feito/Andrea Ganuza/Laura Holdein, Alejandro Gaudino, Alice Monvaillier (Francia), alsina mandarina, amoeba ttt, APA APA, Ariadna Vegas, Asis Percales, Bàrbara Alca, Beibi Creyzi (México), Ben sanair / la générale minérale (Francia), Bendita Miseria, BRANCA STUDIO/MALDO ILLUSTRATION, BRAVAS, Cafeína Prints, Camille Vannier, Carlos González Boy, Carne Líquida, Cartel de Caracas & FLIA (Venezuela), CHAPARRA ENTERTAINMENT, Ciudad Oasis, COBRA, Colectivo Baricela, Colectivo Pararrayos New Town, Cuchidarx, Cuerdas fuera records / eurotrash records / Levogira, Cutrediciones, Cynthia Alfonso, Dead Labor Press, Difon La Idea, Disaikner, DO NOT OPEN THIS SUITCASE, Do the Print, ediciones del pubis, Ediciones Populares, El cuerpo en papel y tinta (Argentina), El Marquès, El Otro Reino (Argentina), El Rito, El Rughi, EMBRUTAFILS, Emma Roulette, Espai Brut, ESTEL BOADA IBERN, Estruç, Falsos Novios, Fatbottom, Femiñetas, Flo Alai, FOME BRUTA SONOPLASTIA GRAFICA (Portugal), Fosfeno Ediciones, Foster Ediciones, Fran Mengual, Gabri Molist, Gelatina, Gemma Fontanals, Giulia Sagramola, GRODUK & BOUCAR (Francia), Hijos Acabados, Histeria Ekis, Homo Velamine, Hukotstore y Leti, Impremta Col·lectiva Can Batlló, INCENDI, Irkus, Javier Lozano, Jean Guichon Editeur (Bélgica), Jeanne d'Arc, Jessica Espinoza_Dibruja, Jrgprrs, Juan Nadie, Juju house / Ben Hunter, Jumbo Press, katie shelly, Kimoil (Corea del Sur), kuš! (Letonia), L'Automàtica, La cova punk store, La Cruda, La Higa Project, La Modesta Fanzinoteca, La Volta, Laura Endy, Laura S. Núñez, Lava ediciones, Le Dernier Cri (Francia), Leebinsoyeon (Corea del Sur), Libros Walden / Discos Walden / Fanzine "El otro lado", Losientomuchisimo, Lupa y Sombrero, mad.rioska (Italia), Mancebía Postigo, Manufactures estàtiques, Marc Torrent, Margaux Bigou (Francia), Margo (Portugal), María Medem, Marlene Krause, Marta Cartu, Marta Grimalt y Cristian Robles, Martina Manyà, Mateo correal, melão brando, Meninos Imoráis, Moju Manuli (Italia), MONDO ZERO (Francia), Morbix, Münster Studio, Naida Mazzenga, Naming Books, Neka, No Libros, Norman (Alemania), Núria Just, Olga Capdevila y Stefania Lusini, Óscar Raña, Pendientes LOL + Dibujo Cosas, Pilar Marco, Pin Tam Pon, Power Burkas, Punkzic (Perú), Puto Pato, Raisa Álava y Alazne Zubizarreta, Real Raval, Regular Things, Roberta Vázquez, Rosario Chochomona, Samuel W. Grant (USA), SOMS, Sophie Vimont (Francia), Strane Dizioni (Italia), sukie zines library, Taca Press, Taller laRoda, TD Papeles, TEJE, Teresa Ferreiro, TOTxRES, TUGURIO, Tupatutupa Records, Unamesa, Underbrain Books / Proezas fanzine / Torpe fanzine, VOSTON, Waikiki Please, Yani Mufato, You Are So Overrated.
Poster: Pau Anglada