Performance by United Cowboys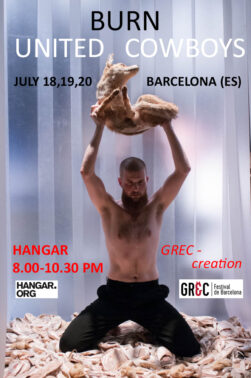 Live-art company United Cowboys, settled in Eindhoven Holland, works at the interface between dance, image and performance-art; avoiding the anecdotal, not caring about defined structures or clarity, but embracing the obscure and the unknown. Main goal is creating projects across disciplines, with the dance performative as staring point and core.
United Cowboys questions theatrical conventions, stretching them and challenging them, in order to penetrate to the key point and quintessence of art.
Burn.
Since 2014, United Cowboys builds biotopes on location, self-sufficient environments, in which dancers, performers and musicians are present. The space is being redefined. The audience can walk around to observe and absorb this world from all angles. He can stop to watch, he can move on, step out and come back again. The performers lead the audience along this seemingly freedom that is guided by the underlying direction that is revealed in tight rules and dramaturgy.
The premiere of the Spanish Burn will take place at the GREC Festival on July 18th and will be performed from 8 PM till 10.30 PM. – also performed at GREC on July 19 and 20.
Location: Hangar, C/Emilia Coranty, 16, Barcelona. How to arrive: https://hangar.org/es/hangar/on-i-quan/
Masterclasses
Wednesday and Thursday 19th and 20th july:
12 AM-5 PM (space open for warming up from 11 AM)
Maarten van der Put and Pauline Roelants will continue their investigation on the mentality of performing in a 2 days Masterclass.
They will work from material of Burn and combine it with improvisation and development of new, individual material.
This strongly physical masterclass starts by introducing tools for a radical presence on stage, related to the challenging balance between vulnerability and power.
All participants are invited to present their physicality and defend their individual territory.
The individual profiles, as result of this introduction, will be the fundament for a guided and structured improvisation at first.
The further we come, the more freedom and space will be conquered.
From the masterclass, it is possible that – a few – performers will be invited to join the last 2 performances of Burn – July 18, 19 & 20 2017, 8.00 PM to 10.30 PM, at Ricson space in Hangar.
Application by CV and motivation until 19th june to : info(at)united-c.nl with copy to barcelona(at)smart-ib.org
There is only room for a limited number of participants in this masterclass.
United Cowboys: Maarten van der Put and Pauline Roelants
The two artistic leaders that work under the roof of United Cowboys – Maarten van der Put (concept, direction, scenery) and Pauline Roelants (choreography and concept) – both create dance- and performance work that lead, in discussion with each other, to all the artistic choices and to the consequence of the various projects and productions. The signature of the separate works of the artistic team differs. Van der Put starts from concept and images to define and reveal the individual dancer/performer. With Roelants dynamic and interaction is guidance for more theatrical works; the music, merely live mixed, functions as ongoing heartbeat.
As a team they undersign the monumental performances that are being played as duration pieces in Holland and abroad. Roelants and van der Put also take responsibility for managing the Art House of United Cowboys; a firm work- and develop space, not only for their own repertoire, but also fort that of other artists. Both young and more reknown artists are invited to expand ideas and to do research for new working- and presentation forms. Encounter and exchange of artists among each other and with their (future) audience are always in the light of investigation, production, presentation and reflection.