Presentation of the Creation Residences BCN>TNS>ALG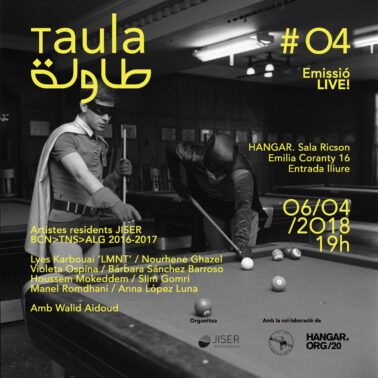 On the occasion of the new Jiser Exchange Grant, Hangar will host the Taula#O4 on April 6th. An open dialogue between the artists who participated in the Residencias de Creación BCN>;TNS>;ALG 2016-2017, taking advantage of their presence in Barcelona for the opening of the final exhibition at the Centre Cívic Ateneu Fort Pienc.
You can follow the Taula via streaming here.
These are the artists Nourhene Ghazel, Lyes Karbouai'LMNT', Violeta Ospina, Houssem Mokeddem, Bárbara Sánchez Barroso, Slim Gomri, Anna López Luna and Manel Romdhani.
With them we will be able to talk about their experience during the residencies, both personally and creatively, anecdotes, difficulties and reflections that have marked them during their two-month stay in the cities of Barcelona, Tunisia and Algiers.
This edition of the Taula is special, as it is the first to be held outside Jiser headquarters and will be the first one to be broadcast live online.
JISER launches Taula / طاولة with the intention of creating a space for reflection and discussion on the arts, culture and research in human and social sciences in the Mediterranean. Several meetings will be held to create bridges between the city of Barcelona and other parts of the region to promote the exchange of perspectives, projects and methodologies that are taking place today.