Smart City Week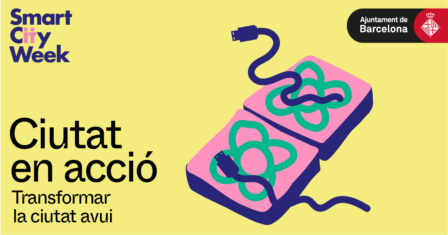 On November 16th Hangar collaborates with Smart City Week hosting the workshops "Make your own digital self-defense kit" and "Race algorithms". Promoted by Barcelona City Council and coordinated by the BIT Habitat Foundation, Smart City Week aims to reflect and experiment on the relationship between people, technology and cities. An initiative that wants to go beyond the concept of smart city and take full advantage of the opportunities offered by technological advances to achieve more sustainable cities.
Make your own digital self-defence kit: towards a safer cyber experience
By Ontologías Feministas.
Date: Saturday, November 16
Timetable: from 12 to 2 pm
In this workshop, "Strolling you down: towards a digital flaneuse", a simile will be posed between the stroll, characteristic of the figure of the flaneur, and the reception in feminist critique of the figure of the flaneuse, as an impossible identity to speak of the scroll in social networks, affected by concerns and violence similar to those found in the flaneuse in the physical space and the figure of the 'troll'. The proposal of the workshop will be the elaboration of a digital self-defence 'kit' in the format of a 'trolling' decalogue of the machista algorithm, as an attempt to make the scroll, the contemporary digital walk, a safer activity.
More info and registration here.
Race Algorithms
By @criticaldias.
Date: Saturday, November 16
Timetable: from 5:30 to 7:30 pm
The recurrent mention of the "racist bias" of the algorithms has been effective in distracting us from a more complex question about the relationships between technology, affection and the racial logics that persist in the present. This workshop is proposed as a space for deepening our understanding of the co-constitutive relationship between surveillance technology, public space policies and racism.
More info and inscriptions here.