Results of the Digital Crafts residency grant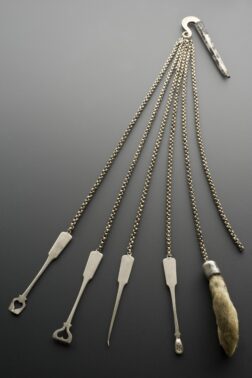 Gathered the selection committee last October 17th, formed by Pep Dardanyà (artist), Raul Nieves (ilaro.org) and Tere Badia (director of Hangar), made the final selection out of the 21 applications received by deciding to award with the "Digital Crafts" residency grant to Tara Whelan. The selection committee assigned as reserve finalists Ryo Ikeshiro and Denisa Ans Yair And Kera Reshef. The residence will take place in Hangar from June 1st to July 31th of 2017.
Description of the project by Tara Whelan
Châtelaines were popular from the 16th c., up to the end of the 19th c. Like a cross between a charm bracelet and a Swiss Army knife, women wore them on their belts and carried a host of useful tools with them, from scissors for handcrafts, to perfume for dances. Tara is intrigued as to what châtelaines could be for modern women. Given the possibility to create something for any occasion, what mix of tools would they choose to carry and what might they look like? One might have a châtelaine for hacking, for beauty, for repair, for parties, for survival or any combination of the above and more. Plus, they could be beautiful, intriguing objects for show as much as functional tools. Worn close to the body and on display, they become doubly expressive – showing something of who we are, as well as being capable of effecting change on the world around us. As Bardzell et al put it "The tool not only clarifies one's work but also situates one in relation to the world, understood in both physical and also social senses"(1).
Tara Whelan believes that the customisable nature of châtelaines will allow for unique and interesting combinations of tools, allowing the wearer to embrace and display multiple identities simultaneously. The châtelaine resists easy interpretation.
In this project she intends to create a wide range of châtelaines for different situations of use, using 3D and 2D fabrication technologies, and to release the files for these for people to use or modify as they like. I will also hold workshops helping people to design and fabricate châtelaine tools for their own use. In this, I hope to understand something of how people view themselves, the multifaceted roles they inhabit, and the sense they have of their own direct agency in the world.
(1) Bardzell, J., Bardzell, S. and Toombs, A., 2014, April. now thats definitely a proper hack: self-made tools in hackerspaces. In Proceedings of the SIGCHI Conference on Human Factors in Computing Systems (pp. 473-476). ACM.