Marc Ribera Valls
Tècnic audiovisual
+34 93 308 4041
marc(at)hangar.org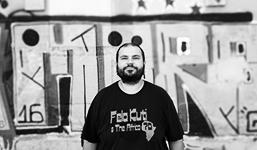 Microfusa studies in sound, majoring in studio recording and audiovisual postproduction.
For almost a decade coordinates technically Terrassa Jazz Festival, also a soundtechnician works for international artists as well as the Jazz Cava.
In addition, he specializes in live sound recording and mastering.
Collaborate with Hangar since June 2014 in supporting the work of different audio productions, and is the responsible of the management, rent and maintenance of equipment.
Schedule:
Monday from 10am to 3pm
Tuesday and Wednesday 10am to 2pm
Thursday and Friday from 10am to 1:30 pm