Marta Gracia
Recerca
+34 93 308 4041 ext. 26
marta(at)hangar.org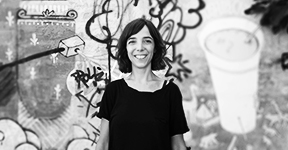 On work leave until August 16th 2020.
BA in History of Art (2003) with specialization in contemporary art and culture.
She has worked in Spain and abroad in the design, development, coordination and evaluation of art research and production projects such as the site-specif project 1.60Insurgent (Albania), the art research and production collective on new technologies aplied to arts Kònic thtr (Spain), the network Association for the Biennal of Young Artist from Europe and the Mediterranean (BJCEM, Italy), the art center Youkobo Art Space in Tokyo (Japan) and the artistic R + D + i project CIDEA – Centre d'Innovació i Desenvolupament Econòmic de les Arts (Espanya).
She is the co-founder of the research and information platform on Spanish artist in residence programmes, Art Motile which was established in 2010.
Since March 2018 is an associate lecturer at the BA in Arts of the Open University of Catalonia.
Since January 2011 is in charge of the research projects in Hangar.
Schedule:
From Monday to Friday from 10am to 3pm