Marzia Matarese
Producció & Residències Internacionals
+34 93 308 4041 ext. 22
marzia(at)hangar.org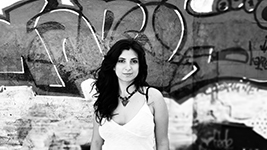 Graduated in Communication and Cultural Industries from the University of Barcelona, she specialized in art and digital cultures.
In 2015, she completed her internship in Hangar working on documentation, production and givving support to the activities of the center.
In September 2016, she started working in Hangar at the production area  and managing the international residences.
She has worked for several years in The Influencers festival, carrying out production and coordination tasks.
Schedule:
Monday from 10'30h to 19'30h
Tuesday from 4pm to 7:30 pm
Wednesday, Thursday and Friday from 10am to 2'30pm