Miguel Ángel de Heras
Laboratori d'interacció
+34 93 308 4041 ext. 28
miguel(at)hangar.org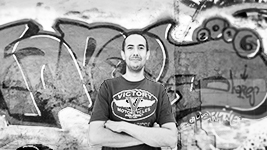 BA and MA in Industrial Engineering in Electronics. His MA thesis has been the development of the hwardware for the project SmartCitizen in collaboration with the UPF and IAAC.
He has developed several artistic projects ("El Alacran Enamorado", "Cherrybone '", "Camperduino" and Refarm the city") and has participated in some editions of the SummerLAB. He has also worked with Alex Posada developing visual and musical instruments for projects such as Neuronoise and the installation "The particle".
He is working in Hangar since 2007 in the interaction laboratory of the center.
Schedule:
Thursday from 5 pm to 9 pm