Laura Arensburg
Short stay residency
February - April, 2019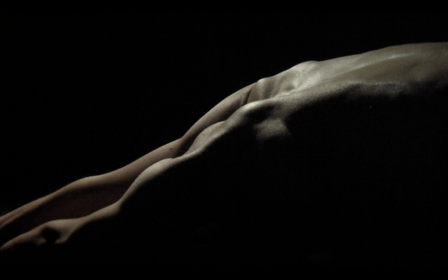 Laura Arensburg. Buenos Aires, 1985.
Laura Arensburg develops her artistic practice in an audiovisual way by listening to and observing personal stories in order to express sensitive reflections from a political and trans-feminist perspective.
By working with moving images, she seeks to sustain her stories in a present time, avoiding thinking about it in a linear way, or fragmented in moments that are not linked to each other. She takes the past as an ally, avoiding its force of attraction as a nostalgic landscape, to envision the power of what still remains.
The camera is an excuse, the one that allows him to infiltrate, from which he observes. With her in hand she produces intimacy. Its presence is perceived, one can listen to it, notice its movements. Her images are not aesthetically prolific, because they reflect her doubts, her nerves, the affectation that otherness provokes in her. She vindicates error and indecision as counterhegemonic attitudes in which we can identify.
She weaves confidence plots that overflow the instance of the encounter between two generating a "between-place" where – in a fluid way – contradictions, transitions and exchanges are produced. Thus, a body expresses itself giving rise to another body expressing itself trying to infect a third body.
Laura is a graduate of the Escuela Nacional de Experimentación y Realización Cinematográfica (ENERC) of the Instituto Nacional de Cine y Artes Audiovisuales de Argentina (INCAA).
She completed the Independent Studies Program PEI 2017-18 of MACBA-Barcelona. There she generated activations around the exhibitions Arxiu Desencaixat, La Campana Hermética and 21Personae from the exhibition Al descubierto o a Escondidas.
She has won prizes from INCAA, Instituto Prodanza, Programa MecenazgoBA and the scholarship from the Centro de Investigaciones Artísticas (CIA) directed by Roberto Jacoby.
Her videos were exhibited in international festivals such as Bideodromo-BilabaoArte, L'Alternativa, Mar del Plata, Asterisco, Bogoshorts, VideoSkin, Positioning II, VideodanzaBA, among others.
She curates Ciclo Cuerpos: imagen y cuerpo en movimiento.
From January 2019 she coordinates the MACBA Cineclub.
She is currently developing the documentary La Partida, which investigates the conflict experienced by a Catalan woman, who is struggling between clinging to the footprints of her husband disappeared in Buenos Aires in the last civil-military dictatorship or abandon them and return to her village in the Maresme. This project has been selected for the Walden Residence 2019 directed by Marta Andreu.