Hannah Arendt, an interview by Mendoza / Debackere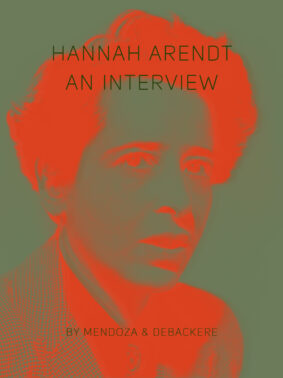 We would like to invite you to a reading of the work in progress about Hannah Arendt at Hangar May 11th, 19:00h.
How does a researcher gain a better insight into something of the past? The bygone is never a fact that can be empirically investigated by perception. Re-enacting historical lectures functions as an artistic production model for knowledge exchange and unraveling the past in order to make the present more insightful, to explore a historical context beyond the written word and archive. The practice of re-enactments aims to connect with the different modes of (ex)change throughout history and traces the mutation of ideas and methods of production.
This project is based on multiple interviews of Hannah Arendt, realized by Constanza Mendoza (visual artist and researcher, Berlin/Barcelona), Boris Debackere (Lab Manager at V2_, Rotterdam), A V2_Lab for the Unstable Media production.
Please confirmed your attendance by sending a message to info(at)conniemendoza.de
We would be very pleased if you can be part of the reading and join us for a conversation and a drink at the end.