Workshop: VANISHING POINTS BETWEEN ENVIRONMENT, BODIES AND ART PRACTICES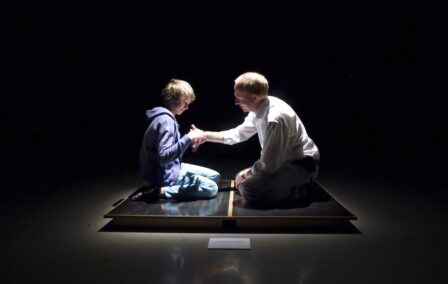 The context we live in affects us, but if we chose the way we want to live according to our identity, we also modify and create that context. Artistic practices have a key mission here. By making invented worlds come true that contrast with the established surrounding socio-cultural reality, they can help us to define the imagined paradise of our dreams, and act as the bridge that will join our current context with the potential self-created environment that we fantasize with.
We propose three workshops in one, each with a different way of tackling that idea. They will revolve around the possibilities of interaction of bodies and sensations with the surrounding environment, via sound, sensors, vibratory phenomena and sensorial stimulation.
Each module will be conducted by one artist from the iii collective, an artist-run platform born in the ArtScience Interfaculty from The Hague (NL). iii creates singular performative media to provide experiences that merge image, sound, space and the body in out-of-the-box presentation formats. Difficult to embed in a particular niche, their invented instruments meander around music, visual arts, theatre and media design.
It is possible to attend just to one module, two, or the three of them.
MODULES:
. 1 The city as instrument and stage: performing with sound, space and the built environment.
. 2 Cartographies of Human Sensation
. 3 Augmented audio-visuals, towards immersive multi-sensory aesthetic experiences.
DATES: 18th March 16-19h // 19th March 11-14h and 16-19h
PRICE: full workshop 75€. one module 30 € // two modules 55€
www.iiinitiative.org
REGISTRATION: yolurel@riseup.net
_______________________________
1. The city as instrument and stage: performing with sound, space and the built environment.

Urban environments are designed, organised and represented mostly with tools that are derived from the field of optics: from architectural renderings utilising the linear perspective technique developed by artists in the renaissance to the satellite photographs of google maps. But how do we experience cities from an acoustic standpoint? What kind of tools and what kind of experiences can enable us to renegotiate the spaces that we inhabit through listening and sound making?  Can the knowledge developed in the realm of contemporary electronic music be redeployed outside of concert halls within the pulsating fabric of the city?
The workshop will consist of a theoretical part and a practical part. The theoretical part will start from introducing these questions and will present a selection of examples crossing the fields of music, visual arts, architecture and media technology. During the practical part participants will be invited to conduct a series of experiments outside the premises of Hangar, using simple impulse response and echolocation techniques to probe, navigate and explore the acoustic specificities of the site.
DATE: 18th March from 16h to 19h
BIO Matteo Marangoni:
Focusing on the potential of listening to establish new connections between people, places and objects, Matteo Marangoni's performances and installations employ field recordings, sound archives, computer programming and DIY electronics. Finding unconventional uses for audio technologies and other media, his work probes the relationship between sound, space and the body, approaching the body of the listener through physical experiences that collapse and reshape the space between subject and object.
His work has been presented amongst others at Stroom Den Haag, TodayArt festival, Volkspaleis, Dag in de Branding (The Hague), STEIM, Muziekgebouw aan 't IJ, W139 (Amsterdam), Ethonologisches Museum (Berlin), November Music (Den Bosch), STUK (Leuven), NAISA (Toronto), CentroCentro (Madrid), European Media Art Festival (Osnabruck), Centrale Fies (Dro), Triennale di Milano (Milan), Fabbrica Europa (Florence), Q-02 (Brussels) and Goldsmith's University (London). His installation "Quiet Before the Storm" received an honorary mention at the Sonic Arts Award 2014.
He curates the nomadic performance program "No Patent Pending" and co-curated the Wonderwerp series at Studio Loos in the 2014/2015 season. He has curated the exhibitions "Taming Technology" (Le Murate, Florence, 2011) and "Eavesdropping" (VillaK, The Hague, 2011). He is a regular contributor to Neural magazine.
http://humbug.me
http://iiinitiative.org/artist/matteo-marangoni/
https://vimeo.com/103063262
_____________________________
2. Cartographies of Human Sensation

This workshop comes out of the research project Cartographies of Human Sensation, which is inspired by the body's ability to act as a filter, singling out and amplifying events in a sea of impressions.

Using specially designed biosensor instruments, we will explore ways of translating the autonomous activity of our sympathetic nervous systems into compositions of sound and vibration.
/Metasensation/, the phenomenon by which technological media allows one to sense themselves sensing, will be a key concept of the workshop as we will try to understand how quantification and collection of sensations can serve as a starting point for reconditioning our attunement to the environment, and for transforming artistic authorship of sound and music into a hybrid object of biology, consciousness and environment.

Workshop activities:
– Discuss the possibilities of a sensory cartography, time perception and measurement through sound
– Approaches to psycho-biometry such as electrodermal response and pulse rate monitoring
– Explore the use of biometric sensor sonifications for psychological environmental entrainment
DATE: 19th March from 11h to 14h
BIO Jonathan Reus-Brodsky:
Jonathan Reus-Brodsky is an American sound artist and researcher. His work explores fantasy and collective myths surrounding technologies, using self-made media instruments and apparatus to explore experiences of time and sensation. Jonathan seeks out extremely cross-disciplinary media and concepts in his artistic output, thus his work often defies easy categorization. It has been variously described as performative sonic sculpture, avant-garde music and art-science.

He has presented work internationally and locally, most recently at TodaysArt Festival (The Hague), De Brakke Grond (Amsterdam), Kunstruimte TETEM (Enschede), Re-new Festival (Copenhagen), STUK (Leuven), Sin Pin Pier Gallery (Kaohsiung, TW), LIG Art Foundation (Seoul, KR), APO33 (Nantes), Media Lab Prado (Madrid), and NK Projekt (Berlin).

For years Jonathan worked at STEIM (Studio for Electro-Instrumental Music) in Amsterdam as a curator, organizer and educator. He is a founding member of iii (//Instrument Inventors Initiative//) based in The Hague and in 2013 co-founded the Platform for Thought in Motion with artist Sissel Marie Tonn.
He often teaches workshops and courses on topics of art, sound and science – most recently at the Institute for Culture and Aesthetics of Digital Media in Leuphana University, Luneburg and at the ArtEZ academy of art in Arnhem.
http://jonathanreus.com
http://iiinitiative.org/artist/jonathan-reus/
https://vimeo.com/103063262
_____________________________
3. Augmented audio-visuals, towards immersive multi-sensory aesthetic experiences.
The traditional five senses are culturally divided into higher (vision and audition) and lower senses (smell, touch and taste). If we have a look into the art history, we hardly find examples of works that make use of stimuli for the lower senses until the 20th century.
In this workshop will revolve around the possible meanings of that fact, taking in account gender and socio-political issues. We will look at multi-sensory examples of pieces and that will bring us to analyse immersive artworks, reflect about what is meaningful from those aesthetics, and their contribution to our current art practices.
After the theoretical part we will make sensorial experiments with a synaesthetic approach. With a special emphasis in the sense of smell, we will play around particularly with aromas to be able to finish with a sono-olfactory action.
This workshop intends to inspire creators to open up their works into making them more multi-sensorial in order to reach their audiences in a deeper level.
CONTENTS
– Senses and Art. Examples of lower senses in artworks along history until current times. Immersive aesthetics.
– Senses and Science. Basic concepts about perception, synaethesia and vibratory confluences of sensory phenomena.
– Senses and Politics. Social classes. Lower senses related to the capitalist system.
– Senses and Gender. Masculine / Feminine connotations of the senses. Higher / lower considerations. What happens with the midpoints of that duality?
DATE: 19th March from 16h to 19h
BIO Yolanda Uriz Elizalde:
With a particular interest in the lower senses (smell, taste and touch), not only on their aesthetic potential, but also on their implication in politics, genre and perception, Yolanda´s work is an amalgam of elements from sound art, visual arts, inspiration from science and techniques from new media-art. It materialises in installations and performances for multi sensory immersive experiences that have been presented at festivals like Sonic Acts (NL), WRO Media-Art Biennale (PL), Kontraste (AU), STRP (NL), SPARK (USA), Todays Art (NL), Oddstream (NL) or Moscow Biennale (RU).
Co-founder of the iii collective (Instrument Inventors Initiative) and FM FX collective from The Netherlands, where she was curating the series of concerts wonderwerp for five years in The Hague, for the promotion of experimental performing arts.
www.yolandauriz.info
http://iiinitiative.org/artist/yolanda-uriz-2/
https://vimeo.com/147452884
Suport: