Free consultancy every thursday at Hangar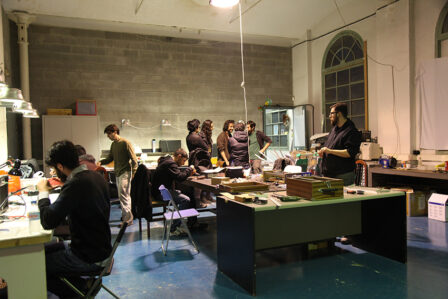 The Open Thursdays programme is based on a weekly meeting open to artists, creators and developers working of the field of electronic art who want to work with hardware and free software. Attendance is free, and allows participants to meet with technology experts on free tools and collectives with whom collaborate and share resources.
From Hangar laboratories we offer technical advice, and in parallel, the resident projects join us advising respectively in musical electronics, intellectual property, digital manufacturing, virtual reality and DIY biology. If you are interested in receiving advice on any of these topics we invite you to write an e-mail and request an appointment.
Program:
Every week  the interaction Lab set up open meetings with artists, creators and developers of electronic art disciplines. Contact: miguel (at) hangar.org
The Hangar Sound Lab Befaco offers advice on issues related to electronic music, vintage appliances and DIY modular synthesizers. Contact: befacosynth (at) gmail.com
Hamaca offers advice on intellectual property and on technical support related to video . Contact: eli(at)hamacaonline.net / Kikol(at)hamacaonline.net