Lettering workshop "Carga Máxima"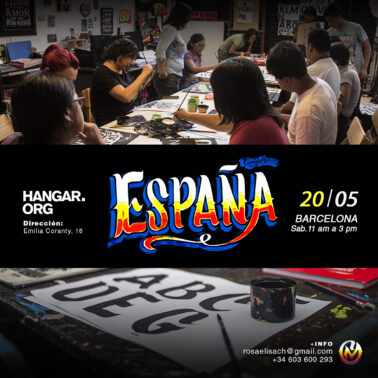 Carga Máxima (Maximum Load) is the name that is known to popular hand-painted letters, alluding to the regulatory graphics of cargo trucks and the load of paint of the marker pen to make letters.
The letters that are found on buses, street stands, cargo trucks and that are also practiced by kiosks or street painters are known as "Carga Máxima", since the years in which cargo trucks came from province to the capital had as a rule to place in a visible part of their body the maximum load they could carry in tons. It is thus that in the absence of machines that did that work, there were and still exist the painters of letters.
"Cara cortada"(Scarface) was one of these painters who worked and baptized this style that survives until now in one of its greatest exponents, Caribeño (Caribbean) who, since the 50's, has been working as a painter of letters and who transmitted his story.
Goals:
We have created this workshop with the aim of:
– Make the Carga Ḿáxima a valuable tool for future graphic projects that the participant can develop in future.
– Understand the importance of Carga Máxima in urban and local popular graphics as well as in Latin American design and popular types.
Contents:
– Participants will know the history and styles of Carga Máxima
– Different exercises will be practiced freehand in order to develop their confidence and pulse with the marker brush.
– They will know the flat letter, the interior color, its variations and the parallel shade.
– They will choose a style of Carga Máxima letter (previously explained), and will create a sketch to develop the finished art in a rigid support.
– The workshop will also provide you with knowledge on how to structure a composition, with the colors and shapes of the Carga Máxima style and how to use the empty spaces for ornaments typical of the popular poster.
Aimed at: Graphic design professors or related careers, students or design professionals or general public interested in typography and popular graphics.
No previous experience is necessary.
Dates and times:
May 20th, 2017 from 11:00 a.m. – 3:00 p.m.
Registration fee: 55 euros.
Materials Included:
Satin latex paint / Other water-based paint – Paper and sheets of 120 grams, can be white or other light color – Fluorescent Paint / brightly color 1 of each color – Hair dryer – Broaches Participants' tools – Marker / White pencil- Rule- Cleaner / Eraser- Water container ½ lt. Approx.
Optional: Bring your logs, various brushes, water container.
To register and / or receive more information write to: dcargamaxima@gmail.com
Information about teachers:
THE NEW GRAPHIC-POPULAR MACHINERY THAT NEVER STOPS … They are youngsters of a new generation that diffuses and performs popular graphics mixing painting and graphic design, together they have been working with the popular urban graphics of Lima for more than 2 years. They began with several personal and group projects like Huayno with Arpa, and Maestros del Pincel, Letras del Perú, Museo Chicha (virtual platform). For many years they have made posters and mural painting using labeling and illustration, but this past year they have given a lot of energy to Carga Máxima, their two-person project, which seeks to be an export product.
Alinder Espada: Graphic Designer and Bachelor in Visual and Visual Arts by the Escuela Nacional Superior Autónoma de Bellas Artes del Perú. Specialty painting, Silver Medal of Promotion 2012, project: Huayno with Harp and co-fouder of Carga Máxima.
Azucena del Carmen: Direction and advertising design Degree by the Instituto Superior Toulouse Lautrec, and painter of letters with self-taught formation. Co-founder of the project "Chicha Museum", Co-founder of Carga Máxima and researcher and photographer in "Letras del Perú – Revista"