LEM Festival at Hangar the 23. and 25. of october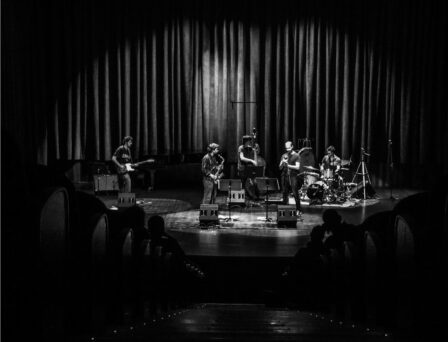 DAY 23. of october
ALGUNS HOMES BONS (Barcelona/Berlin)
A Genís Bagés' project, a Catalan musician living in Berlin where he plays an active role in the music scene of the city, Alguns Homes Bons involves young players from jazz and the most innovative and groundbreaking jazz rock bands such as the Free Art Ensemble, the David Mengual Free Spirits Big Band and Hipopòtam. Now, Pol Padrós (trumpet), Joan Mas (alto sax), Marcel Bagés (electric guitar), Àlex Reviriego (double bass) and the afore mentioned Genís Bagés (drums and compositions) pre- sent their first recording, Golluts, an amalgam of new sounds and textures gliding between free jazz and the most electrical and expressionist jazz, with a pro- fusion of rhythm and intensity breaks, armed with a fresh and frenetic sound, always with a common denominator: the free improvisation.
Date: Friday 23. of october
Time: 22 h
Place: Hangar
Tiquet 5€ (3 events)
KASPER T. TOEPLITZ (Paris)
Kasper T. Toeplitz is a Polish composer and bass player living in Paris whose activity spans from orthodox writing to electronic noise music. He visited the LEM 1997 with Sleaze Art, his powerful orchestra formed by electric basses and guitars. He has been awarded with a number of prizes from festivals around the world and he carries out a huge activity. With influences ranging from Stockhausen to Godflesh, Toeplitz has integrated computers into his work, as a tool of com- position as well as a live instrument, working on the sheer electronic noise or in conjunction with traditional instruments. At this occasion, Toeplitz will play the pieces Elephant & Cat (own composition) and Fluster (by the late Zbignew Karkowski). The listening of Toeplitz music is challenging because he call the traditional notion of beauty into question but, if one puts the required attention, he obtains the reward of a truly interesting and unique experience.
Date: Friday 23. of october
Time: 22 h
Place: Hangar
Tiquet 5€ (3 events)
DAY 25. of october
ZOZOBRA (Barcelona)
In the beginning, Zozobra (Antonio González, a former member of bands such as Enough or Too Much) arises from the need of leaving the form of standard songs behind. Assisted by his most familiar instruments, such as a Casio SK-5, a loop station, voice and a very personal inner world, he resumed the most spoken aspect of his work, a kind of spoken word, and he started to make concerts without a pause, in a continuous fashion. Some of them are thematic and in the course of the show, a kind of story is being developed while chords, words and recordings are being thrown at it. Some others are of a more improvised type but the aim is always to avoid doing twice the same show and to collapse in front of the audience if necessary. Sharp and intense live shows, somewhere between noise and lyricism. Music for sinking.
Date: Sunday 25th of october
Time: 21 h
Place: Hangar
Tiquet 5€ (3 events)
25 HOMBRES (Girona / Ciutadella)
In august 2003, 25 HOMBRES, an almost secret collective, begins its activities with an event thwarted by rain. Since then, these agitators expand the facets of their polyhedral activity reaching almost all forms of (counter)cultural direct action. Radio shows, festival production, self-edited artisanal records, tributes, fanzines, readymade, mail art, videos, manifests, blogs, multimedia performances, etc. Among them, the most impressive type of action used by 25 HOMBRES to convey their messages are the sound collages and performances, with the stress put in aspects such as anti- Dada, confusion, magic, industrial culture, subconscious and social criticism, with pas- sages close to noise and industrial music, the whole tinted by a provocative sense of humor.
Date: Sunday 25th of october
Time: 22 h
Place: Hangar
Tiquet 5€ (3 events)
BRUITAL ORGASME (Liège)
Bruital Orgasme is Fil & Nath, from Belgium, a dark, organic and a bit surrealistic, duo. They play with frequencies, sounds they record during their travels, homemade sound generators, sounds from many sources (such as old vinyls, turntables without records, radios, tapes). They give intense and physical performances with the aim of reaching the bodily effects of noise as music. Reaching the point where harsh noise is not considered unpleasant demands a training of the senses, a lack of restraint, allowing all sounds to be music, emancipating noise from its mimetic function, abstracting it as purely aesthetic. Past lives include performances across Europe and Canada. "An overload of the nervous system, maybe reflecting our inner and outer chaos, absorbing the listener into an ecstatic black hole, just like an orgasm".
Date: Sunday 25th of october
Time: 23 h
Place: Hangar
Tiquet 5€ (3 events)
Get more information on the Festivals website