Sample of works of the residents of Nauestruch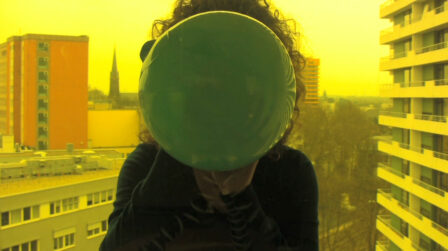 The residents artists of Nauestruch Alejandra Pombo and Claudia Rebeca Lorenzo, land in Hangar to show some of the video work they have been developing in the last months and during they residence in L'Estruch. The proposal for the session brings together interests, aesthetic experiences and a critical mix of the cosmogony of each artist, and includes apart from the video, ingredients close to performative action, literary recital or any social act – such as watching a movie in company- And therefore relational.
Alejandra Pombo, Wild Palms
Alejandra Pombo experiences in her work with the presence through different performative approaches: camouflage (observe / be observed), the reflection (interior / surface), private / public, intimacy / distance … In her work process with the moving image presses the rhythm between all the elements based on an emotional logic.
Alejandra Pombo (Santiago de Compostela, 1979) PHD from the Faculty Of Fine Arts of the Universidad de Vigo with the thesis "Performativity as an artistic experience" has participated in many exhibitions and performances of which highlight "Atelier Spezial" PACT – Zollverein (Essen) or Festival In-Presentable in Casa Encendida (Madrid )
Vampirillasilvestre.net
Claudia Rebeca Lorenzo, NETA INU NI, or sleeping dog
The project NETA INU NI or Sleeping Dog aims to elaborate an analysis of the significant elements that appear in the haiku of the writers Kobayashi Issa and Matsuo Basho to later translate them materially in texts, drawings, videos and sculptures. The spirit of the haiku in everyday life, what happens here and now without excluding anything, is what Claudia Rebeca Lorenzo puts into practice when materializing the work in the workshop and when fixing the issues to be addressed in the process, which are not Themes in themselves, but the entrance of reality into material form.
Claudia Rebeca Lorenzo graduated from PEI MACBA (Barcelona) and holds a degree and a master's degree from UPV / EHU (Bilbao) and recently from Kalostra (San Sebastián). He has participated in exhibitions such as Sculpture, Barakaldo Municipal Exhibition Hall, or Between Cultures, Wangijing North River Park North Gate (Shiyou, China).