Paratext n#22 with Megan Michalak, Jang Suk-Joon, Elnaz Salehi, Gabriel Lecup and David Crespo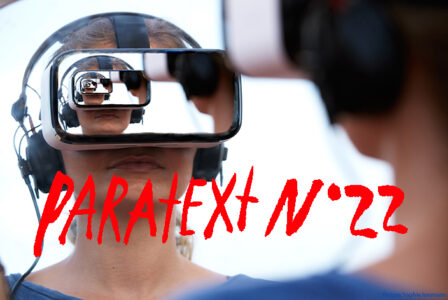 Paratext hides a monthly program of presentations by artists in residency in Hangar, always on Wednesday from 7 pm to 9.30 pm. Several artists present in various formats specific projects or parts of their works. The meetings are always opened based to the public in order to enable interaction with the artists themselves.
Next session will take place on Wednesday, November 29th at 7 pm in Hangar at Ricson space.
The following artists will present their work:
Megan Michalak is a queer transmedia artist living and working between New York City and Toronto. Inspired by William Burrough's statement, "If you cut into the present, the future leaks out," Megan Michalak's work is a public invitation. She asks: if we, the public, held the historical-record hostage, what would the ransom note say? What would get reinserted? Through addressing the performance of historiography in multiple registers of media, her work creates counter-sites where citizens can perform and contest histories of cultural and community memory.
Michalak's studio practice spans sculpture, performance, digital media and drawing. International exhibits include: the Lisbon Architecture Triennale, the 2nd Moscow Biennale for Young Art, Galarie Titanik (Turku, Finland), Fonds Regional D'Art Contemporain Frac Languedoc-Roussillon (Montpelier, France), and the International Festival of Choreography in Paris. She has additionally screened works in film/video festivals in France, Spain, Portugal, Mexico, and Brazil. Within the US she has exhibited at the Bronx Museum of the Arts, the Aldrich Contemporary Art Museum, and the Yerba Buena Center for the Arts, Artists Space, and Smack Mellon Gallery in New York City. She is the co-recipient of a Film, Media and New Technology Grant from the New York State Council of the Arts, three Finishing Fund Grants from the Experimental Television Center, two residencies at the MacDowell Colony, and funded residencies at Harvestworks, and Smack Mellon Gallery in New York City.
Digital artist and computer developer based in Barcelona since 2013. Born in France, he has lived in Nepal, Vietnam, France, Argentina, Belgium and Spain. He has received an eclectic musical training, a mixture of Hindu music, classical music in the national conservatory of Ha Noi (Vietnam), jazz in several schools and institutes in France, folk music in Buenos Aires, and experimental electronic music. He has studies of sound technician (BTS AV Toulouse, Sonic School Buenos Aires) and philosophy (Université Toulouse Le Mirail).
From 2005 to 2008 he has been dedicated to creating audiovisual installations for theater and dance. He has collaborated in a dozen projects in Buenos Aires, with directors such as Miguel Robles, Hernán Moran, Maria Urtubey, or Enrique Klose Escobar. In 2008 he moved to Brussels, where he increased his interest in interactive systems and audiovisual programming, and where he trained as a self-taught in several institutes and workshops as a computer developer to make tools for sound technicians and musicians, generative audio applications,video-mapping programs and digital image processing. He is specially interested and is actively involved in the production and dissemination of open technology and free software.
His activity is divided between his own productions that can take a multiplicity of formats (audiovisual installations, performances, sound art pieces, digital art, video art, conceptual art, creative software, etc.) and collaborations (with McCallum, the sculptor Lluc Baños Aixala, the sound artist Chloe Despax, the choreographers Daisy Thompson, Mireia Arnela, Miguel Robles, …). In all cases, his work focuses on applying new technologies to artistic production, considering both the technical aspects and their symbolic, social and psychological scope.
For the last few years, Jang Sukjoon has focused on capturing vernacular urban landscapes. Through photography and interactive multimedia installation, she interprets mundane everyday life into dynamic portrait of contemporary urbanism that we live in. Her recent project Flatcity deals with the relationship between contemporary sense of physical space and digital space, and the new ecology of our era.
Jang received BFA and MFA in Korean National University of Arts, Seoul. She has shown nationally and internationally including SeMA Biennale Mediacity (2016), Flatcity, gallery Jandary (solo, 2015) in Seoul, Ars Electronica, Deep Space 8k in Linz, Austria (2016) and Docu META, MK2 art space in Beijing, China (solo 2009 ).
Jang has participated in numerous residencies including MMCA Changdong Residency(2007), The Arts Centre of Christchurch(2009), C.O.L art studio in Beijing (2011) and UNESCO-Aschberg program(2009). Jang was one of the finalists of VH Award in Korea.
She lives and works in Seoul.
He works on art projects, addressing issues related to social empowerment over the territory. Through his projects, he builds installations or physical scenarios with the intention of reinventing and launch a critical eye on the environment.
He's interested in everyday topics, makes much of his work revolves around issues that concern playfulness, a starting point from which intends to generate alterations of reality, reformulating the rules and structures that support them, to develop new concepts and also as a way of doing politics. Through action, experimentation, collective participation, happenings, play or irony he defines the forms of projects, prioritizing the experience and the social factor.
In her work she confronts sculpture as an operational product; something that can be used although in an absurd, meaningless or cruel way. She is interested in reproducing devices, instruments and objects which are just not constant. The apparatuses that are made based on human being's unlimited imagination. She likes to research on those setups and change them in her own way. She likes to freely play with objects and transform their utilization by her civilized fantasies, in a metaphorical and satire way.
She describes her work as an ongoing investigation on materials and forms both in 2d and 3d; while drawing an object in 3d softwares to be rendered, she also deals with the circumstances of representation.