PARATEXT nº12 with Stephan Köperl, Oskar Klinkhammer, Ding Chien – Chung, Alán Carrasco, Diego Paonessa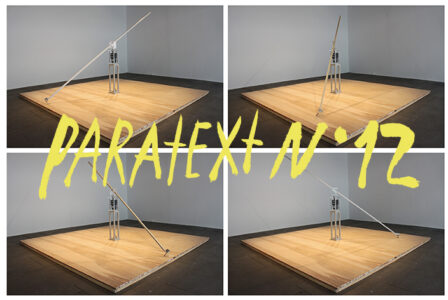 Paratext hides a monthly schedule of presentations by artists in residency in Hangar, always on Wednesday from 7 pm to 9 pm. Several artists present in various formats specific projects or parts of their works. The meetings are always opened to the public in order to enable interaction with the artists themselves.
Next session will take place on Wednesday, october 5 at 7.00 pm in Hangar at Ricson space.
The artists will present their work:
Stephan Köperl is a Stuttgart based artist working in the field of public interventions and low-budget short-videos.
He got his degree from the Stuttgart State College of Art in 1998.
The focus of his interest lies on the conditio humana under the influence of the contemporary urban und virtual environment.
His previous work that he almost exclusively created in collaboration with Sylvia Winkler can be found at:
Oskar Klinkhammer is a post graduate student at Braunschweig University of Art (HBK) and holds a diploma in media art. He studied art history at Heinrich-­‐Heine-­‐University, Düsseldorf and media art at Karlsruhe University of Arts and Design (HfG), Berlin University of the Arts (UdK) and Kyushu University, Fukuoka, Japan.
Klinkhammer works multi and interdisciplinary, but preferably in the media of sculpture, painting, video and film. For his works he uses electric motors, found objects, steel, glass, peepholes, surveillance cameras, and video mixers. Klinkhammer leads the viewers gaze into small, private realities that are simultaneously capable of reflecting and describing large, complex connections. By directing the gaze with the help of tools of surveillance technology, not only various types of hierarchies of the gaze are revealed and investigated, but also its often attained association with the panopticism points to a social critique of surveillance. The transmission of the actually existing world into the mediated reality can be understood as an ironic link to social attitudes and propaganda and the attempts to establish truth within a morbid society of comsumption and control. Perversion, compulsion, neurosis and fetish of patriarchy and the artifices of everyday life are disclosed.
Viewers see images of decadence, of the beauty of death and the absence of vital energy, symbolized by machinaries that propel the specimens. The incomprehensible is magnified, surveilled, and projected, affording insight not so much in a scientific or technical sense as in the form of a subjective experience. The action and the figures are not deciphered; they refer to their own growth and decay. A farewell to earthly doings.
DING Chien-Chung, born in Taipei, 1983, and graduated in New Media Art department in TNUA, recently has been focusing on the relationship among installation, kinetic machines and space. Via repetitive movements, a recurred reading experience is reached and established; to go further, the repetitiveness can amplify daily tiny views into more intensified and tremendous experiences.
His works have been honored by Taipei Arts Award and 9th Taoyuan Creation Award, collected by National Taiwan Museum of Fine Arts and exhibited at MIT (Made in Taiwan) special section of Art Taipei and so on. In 2012, he was invited by Maison Laurentine to do residency project and exhibit the works during D'abord les forêts/ Opus 3, which thereafter were toured among Hong Kong, Tokyo, Madrid, New York, Beijing and other places.
Is a visual artist and editor for Situaciones – a magazine dedicated to history and art critique. He holds an Advanced Vocational Training in Artistic Photography from the School of Art and Design in Vitoria-Gasteiz, Graduated in Art and Design at the Escola Massana / Universitat Autònoma de Barcelona – an institution in which he has also been a contributor within the Contemporary Image and Culture departments, and Master in Museum Studies and Critical Theory, otherwise known as the Independent Studies Program (PEI) at the Barcelona Museum of Contemporary Art (MACBA). In recent years he has taught at the Faculty of Humanities at the Universidad San Ignacio de Loyola and the Toulouse Lautrec Superior Institute in Lima (Republic of Peru). He has also lectured a seminar on specialization at the Cultural Center of Spain in the same city. Currently, he is pursuing a Master's Degree in Comparative Literature, Literary and Cultural Studies at the Universitat Autònoma de Barcelona.
The key aspects of his artistic practice are based on postcolonial processes, territoriality, and the relations between production and remuneration that reflect on the current and profoundly unequal global context. His time living in Latin America in recent years has given him further depth on postcolonial theories and the constructed realities revolving around the notion of the nation state which occurred after the collapse of the colonial empire, as well as the ability to understand how independence in these countries is relative given that the patterns of colonialism still carve deep into the facets of daily life. Last, but not least, Carrasco gives special attention to the construction of historical processes as well as the collective memory involved. His artwork has been exhibited in Italy, Spain, Peru and Chile.
Studied Bachelor of Fine Arts at the Instituto Universitario Nacional de Arte (Buenos Aires). He has focused its research on the relationship between artistic production and technical production.
Since 2000 lives and works in Barcelona. In recent years he has completed the doctoral program Painting in digital age at the University of Barcelona and received a grant for artistic creation from Guasch Coranty Foundation. In 2008, he was also awarded the scholarship granted by the Carta Blanca FAD (Promotion of the Arts and Design), where he developed an interdisciplinary research project.
During 2011 he participated like collaborator at Visualizar 2011 Medialab-Prado and had a artist residence at Corelabs [New Media Art Production Center] en Beijing. In 2012 he was selected at BCN Producció 12 for a project of intervention in the Espai Cub Capella in Barcelona. In 2013 he has completed a specialised course of Interaction Design and Usability (UOC), participated as collaborator at Interactivos 2013 Medialab-Prado and had artist residence at Variable, Constant Association for Art and Media, Bruselas.
He combines his artist activity with design projects to create specialised interfaces.
5th october 2015, at 19h, in Hangar.
Free Acces

With the collaboration: