Possible Bodies Rotation III: Phenomenal 3D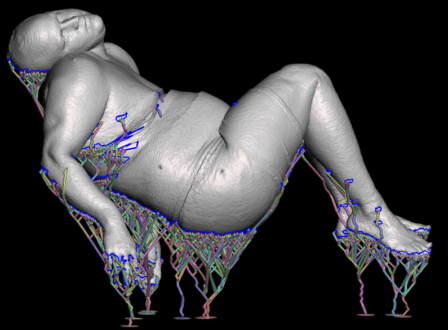 Possible Bodies (Jara Rocha, Femke Snelting), one of the selected projects at the second edition of Hangar's Production Grand,  is a collaborative research on the very concrete and at the same time complex and fictional entities that "bodies" are, asking what matter-cultural conditions of possibility render them present. This becomes especially urgent in contact with the technologies, infrastructures and techniques of 3D tracking, modelling and scanning. Intersecting issues of race, gender, class, species, age and ability resurface through these performative as well as representational practices. The research is concerned with genealogies of how bodies and technologies have been mutually constituted. It interrogates corpo-realities and their orientation through parametric interfaces and looks at anatomies that are computationally constrained by the requirements of mesh-modelling. It invites the generation of concepts and experimental renderings, wild combinations and digital and non-digital prototypes for different embodiments.
For this rotation, Possible Bodies turns to the phenomena of 3D. In the context of Bau college of design, we are wondering how to grasp the apparatus of 3D scanning, modelling and tracking if reality does not mean fact nor truth, and virtuality does not mean fiction nor lie. From gaming to fashion, from interiors to graphics, from audiovisual to fabrication… design functions within the industrial continuum of 3D technologies and all of these industries are deeply entangled with and affected by the production of (so called) bodies and (their) truths.
The modern regime of truth still tangibly affects daily lives and how they are lived. What worries Possible Bodies is the way that volumetric calculations and their technological matrix are infused with anatomic science, combined with a parametric understanding of matter and fixed modes of perspective. Together they seem to have travelled untouched into 3D technologies, carrying their colonial, racist, misogenist, ageist and ableist values into their code-base, interface design, visual culture and teaching methods.
Karen Barad talks about the phenomena that result from the "intra-actions of multiple apparatuses of bodily production". The notion of the phenomena helps to understand that bodies are technological, calculated productions that we learned to comprehend and in-habit. We urgently and clumsily take Barad's hand and ask: if bodies are lively political fictions, what is the phenomenal body of 3D truths? And from there on: how can we provide ourselves with 3D toolmaking processes and vocabularies that extend bodily fictions beyond -or below- the modern regime?
With contributions by: Jorge Luis Marzo, Simone C. Niquille, Paula Pin, David Ricart, Jara Rocha, Femke Snelting, Kym Ward, Objetologías research line, CFD's team, the Project area at Bau and many others.
22/11 19-21h: Presentation and discussion
Jara Rocha, Femke Snelting: "Possible Bodies"
Kym Ward: "Circluding, el fanzine"
Simone C. Niquille: "Parametric truth, HD Ready"
Paula Pin: "Biocomplexity: estrategias y fricciones emergentes"
This activity is free and open to everyone.
In English and Spanish.
[Bau: edifici B, Plató]
23/11 16-20h: Workshop "Intimate Biometrics"
With Simone C. Niquille.
This activity is free and open to everyone.
Places are limited, please reserve by sending an e-mail to: jara.rocha@baued.es
In English.
[Bau: edifici B, aula 1.3]
24/11 9h-20h: Workshop: "Signs of clandestine disorder in the uniformed and coded crowd"
With Possible Bodies. Places limited to first years students in design.
In English.
[Bau: edifici A, aula 1.7]
25/11 11-13h: Collective reading
Karen Barad: "Getting Real: Technoscientific Practices and the Materialization of Reality"
With Possible Bodies and Kym Ward.
This activity is free and open to everyone.
Places are limited, please reserve by sending an e-mail to: jara.rocha@baued.es
In English.
[CFD / carrer d'En Fontrodona, 31 – Poblesec]
Bibliographic display
Sergi García
[Bau library]
Imagen ROOT 0082, Technoflesh/Simone Niquille 2017