(Català) Presentació Grigri Pixel Barcelona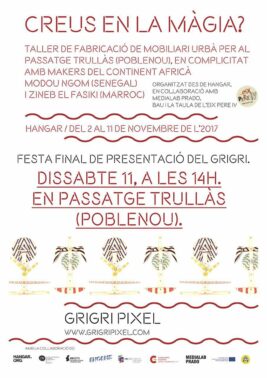 On saturday 11th of November at 14h the Grigri manufactured under a free license for the neighbor space of Passatge Trullàs, located at Poble Nou district in Barcelona. The grigri-amulet designed and built collectively to protect the communities and spaces that make part of Trullàs and Poblenou particular ecosystem.
This edition of Grigri Pixel 2017 in Barcelona has been develloped in HANGAR a centre for art research and production with the presence and collaboration of two makers from the African continent: Modou Ngom (Senegal) and Zineb El Fasiki (Morocco). The team of mentors was composed of Blanca Callén (Barcelona) researcher and professor at BAU (centro universitario de diseño), Yago Torroja (Madrid) electronics engineer and professor at Universidad Politécnica de Madrid and David Pérez, architect from Enorme Studio (Madrid).
This project is carried out in partnership with Taula del Eix Pere IV and Hangar and with the support of Medialab Prado, BAU, centre universitari de disseny and the program ACERCA of Cooperación Española.