Multifocal thursday with Orquestra del Caos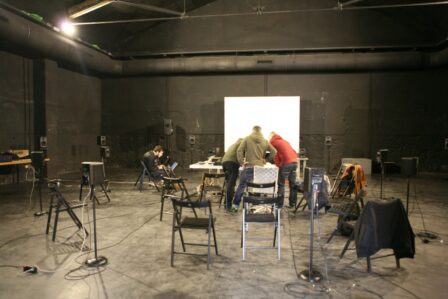 As a contribution to Hangar Open Thursdays, once a month, Orquestra del Caos offers its classic circular octophonic loudspeakers system to every sound experience related to multifocal diffusion, loudspeakers spatial organizations and software programming of any sound and musical behaviors.
The initial octophonic organization could change for each meeting and the number of loudspeakers could reach 24.
We offer an iCone iControl Pro MIDI DAW controller surface with 8 100 mm motorized faders, a MacBook Pro 13" running a dedicated application to reproduce and spatialize audio mono or multichannel archives  (1 to 24), through a MOTU Traveller audio interface  (8 analog inputs and outputs) that feeds audio signal to loudspeakers.
The use of any interface or computer is always possible to achieve any desired experience. Nevertheless, its outputs never will be connected directly to loudspeakers. Signal arriving to loudspeakers should be limited by the system of Orquesta del Caos, in order to avoid signals overloading.
When projects does need the use of microphony, signal limitation could cause important reduction of system performance.
Every test will be supervised by a technical advisor that will help with the system and solve any doubt could rise during the sessions.
To access this facility and realize any desired experience, please ask for an appointment at caos(at)sonoscop.net and explain shortly your project in order to prepare all technical needs.
Dates:

March 7th and 8th 2018