New working sessions in Hangar's WetLab with la Prototyp_ome residents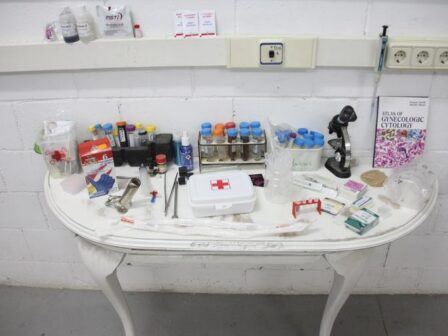 In the framework of the Prototyp_ome collaboratory, we invite you to participate in a program of sessions / #DijousOberts that have been started in March with the residence of the Quimera Rosa collective. For this working sessions is not necessary to confirm assistance.
Prototyp_ome is an interdisciplinary biology collaboratory DIY / DIWO promoted from Hangar and the Biomedical Research Park of Barcelona that brings together artists, scientists, hackers, makers and various social groups to re-visit, re-think, co-design and develop processes, tools, and technologies of biological exploration.
Prototyp_ome brings together a hybrid and interdisciplinary team that encompasses different skills and knowledge surrounding its laboratories, and the communities that are generated around them and in the common space of the collaborator. The crossing of profiles, different areas of knowledge and perspectives is key and fundamental in a project that aims the collaborative production of knowledge, that works with open source technologies and that takes as a starting point the user's perspective instead of the institutions and disciplines traditionally recognized as the only generators of valid knowledge.
The collaboratory is conformed by Hangar, the Parque de Investigación Biomédica de Barcelona, DiYBioBarcelona and Pechblenda.
In order to generate a community of users/experts, these #DijousOberts will be developed during 2017, within the framework of the residences of the 4 projects selected by the Prototyp_ome residency open call:
– Quimera Rosa. From March 20 to April 2 and May 4 to June 4.
– Rita Wu. From May 29 to June 11.
– Ryan Visscher Hammond. From the 12th to the 26th of September.
– Mary Tsang. From the 10th to the 22th of September.
Throughout these sessions, you will learn and work collectively on biological exploration tools and technologies linked to the selected projects. We are waiting for you next
These sessions will take place every Thursday from 7:00 p.m. to 10:00 p.m. in the WetLab of DIYBio Barcelona, at Hangar.
1 session.11.05
Presentation of lab and its tools
Safety instructions
Introduction to tools
Presentation of the May work program
2 session.18.05
Open talk with Belén Lloveras, a pathologist at Hospital del Mar with extensive experience in Human Papillomavirus (HPV).
Work on light sources used in Dynamic Phototherapy (FTD) and its different types: light-emitting diodes (LEDs), lasers, halogens, sunlight.
Notions of wavelength, frequency, power and intensity.
DIY replication models used in FDT in combination with the molecule 5-Aminolevulinic acid (ALA) used to treat different types of localized cancers, HPV, skin problems, herpes or bacterial infections.
Elaboration of a low-cost light intensity meter with Arduino.
3rd session 25.05
   

Start of the incubator for cells

    

Initiation to working with cells

    

Study of the protocol of Photodynamic Therapy with 5-aminolevulinic acid + LED of 466 nm

    

First tests of Photodynamic Therapy.
4t sessión 8.06
Progress of the investigation.
First prototypes of paper chips to detect problems such as candidiasis, trichomoniasis, bacterial vaginosis and cervicitis through vaginal discharge.
Collection of vaginal flows for first tests and / or examination by microscope.
Start of culture of Candida albicans and Gardnerella vaginalis.
5th session 7.09
Session in charge of Paula Pin.
Symbiotic microorganisms, extraction of lacto bacillus bacteria from our vaginal flora to make yogurt.
… C0ÑURT, vaginal flora, yogurt, sybiotics, probiotics, prebiotics, lacto bacilus, bacteria, fermentation …
Interactions between species, the human as interspecies ecology. Probiotics are microorganisms that have a symbiotic relationship with humans or other species.
During the session we will perform the vaginal extraction to isolate and cultivate the probiotic bacterium Lacto Bacilus.
Format: node begins with a brief presentation about the symbiotic microorganisms present in the cyborg body and gives way to a microbiology laboratory experiment in which we will extract vaginal fluids to give way to the culture of probiotic bacteria Lacto Bacilus with which we do COÑURT.
COÑURT the yogurt that comes out of the pussy is:
1- Ecological. For its production we use house-body matter, the vaginal flora.
2- Healthy because it prevents urogenital infections, urinary tract infections and bacterial vaginosis.
3- Nutritious. The use of probiotics COÑURT nourishes our body favoring our metabolism.
4- Economic. It would reduce the investment that community cooking makes in artisan yogurt.
5- A delicious product for exquisite paladades.
Duration of extraction and culture of the bacteria 2 hours. For the rest, let the bacteria work!
Useful readings:
6th meeting 14.09
With Ryan Visscher Hammond and Mary Tsang.
Presentation of the project and prevention of cancer through the elaboration of schizophyllum cheese, which contains elements to keep the immune system in optimal conditions to protect against diseases such as cancer.
Arbuscular mycorrhizal fungi (AMF): these are soil organisms that live symbiotically with most plants, symbiotic forming mycorrhiza. As in many symbiotic relationships, both participants gain benefits in the form of nutrients or water. Recent studies consider that the mycorrhiza network constitutes a World Wide Web by which plants exchange nutrients and information between them.
7th session 21.09
With Paula Pin and Ryan Hammond
1- [schizophyllumcheese] How to make cheese with Schizophyllum Commune, Apparently, Schizo produces the same types of lactose-coagulating
enzymes that produce the lactobacillus-producing microorganisms and cheese. When the cheese is brewed with Schizo fermentation instead of lactobacillus fermentation, it contains Beta-glucans and other anticancer substances.
2- [Cancer Immunotherapy] outlines information on Schizophyllan – a polysaccharide purified from Schizophyllum Commune that has been approved for the treatment of cervical cancer in Japan during the last 25 years. I could potentially engineer edible seaweed to overproduce this to create super cheap nutraceuticals.
3- [decolorationofdye_laccase] Describes methods for collecting excreted laccase and other fungus compost enzymes for the discoloration of endocrine disruptions and carcinogenic dyes used in clothing, plastic, pharmaceutical and cosmetic production. It could be used to develop a cheap diy protocol to determine approximately the activity of the laccase of a fungal culture in another organism. Laccases are capable of breaking a wide range of endocrine disrupters, carcinogens, hormones that mimic pollutants.
Experiments and activities:
We will focus on the different applications of the fungus Schizophyllum
commune, we will cultivate it and work on the extraction of
Schizophyllan (neutral extracellular polysaccharide produced by the
fungus) and its applications.
1- Cultivation of the fungus, experimental prototyping
2- Extraction of Schizophyllan polysaccharide
3- Uses of Schizophyllan:
1- Prevention of cancer by making schizophyllum cheese, contains
elements to keep the immune system in optimal conditions to protect from
diseases such as cancer.
2- Treatment of cervical cancer through Schizophyllan
3- Treatment of contaminants in the Anoia River. Discoloration of estrogen dyes and endocrine elements, further testing and analysis insitu in Calafou.
***
It is not indispensable presence in all sessions, although it is recommended.
Prototyp_ome has the support of: