Beta viewing of *CASA VR (House/Untitled) by JODI (Dirk Paes)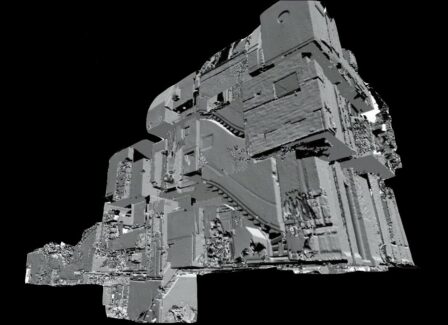 Thursday January 18th at 18h Dirk Paes from JODI will show a Beta viewing of *CASA VR (House/Untitled). The project he developed during his residency as one of the winners of Hangar's Interaction Lab grant 2017.
CASA Vr is a Virtual Reality environment that was not modelled but reconstructed from a collection of hundreds of 3D scans made in the private environment of a home.  A 3d environment which can be 'visited with a VR headmount display. The basic difference with 'normal Virtual Reality is that the "VR House" is NOT 3d modeled and not textured with photographs, the VR House is constructed from a collection of 3d scans that have a raw 'black-white appearance that refers to an unfinished (ruine) house or a building modeled by 'broken software. The "VR house" building is constructed from a 3D collage of unrelated scanned rooms and has a 'ghostly appearance because it is recognizable as constructed from 'real life' scans but at the same time the different rooms connect as impossible/ unexpected situations.