Do-it-yourself projects for New Artisans. Course of introduction to construction and assembly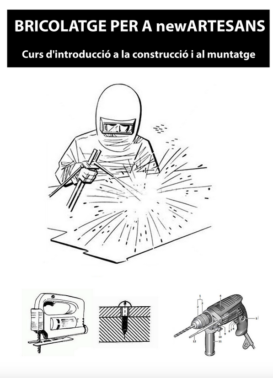 Number of participants: 10 / 15p
Material included in the enrollment: 120 €
5 sessions of 4 hours Tuesday 10:30h to 14:30h
* The enrollment includes all the materials (wood, iron, methacrylate, electrical material, etc.) and tools for loaning.
Description:
This workshop is intended to be an introduction / first contact to the volumetric and tri dimensional construction. An approach to the materials (wood, iron and methacrylate) how to treat them, understanding them and work with them. A first contact direct, in order to project and solve problems related to the construction in an easy and spontaneous way -but without shoddy jobs-
This workshop had the primary purpose of being able to transfer to reality that which is imagined, and we'll familiarize with basic tools in order to find practical solutions.
During the workshop, the knowledge obtained will be used to construct a wooden cube which may be converted in a small table, sideboard table, lamp… The goal and the purpose of the object will be decided along the workshop.
Schedule:
5 sessions from 10:30h to 14:30h
Every Tuesday from January 17th to February 14th 2017
Material requested to assistants:
Work clothes, gloves and goggles
Registration 120€
To subscribe send a mail to formacio(at)hangar.org